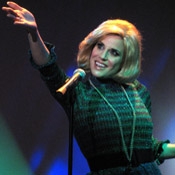 The arc of the theatricalized pop star is a familiar one: the meteoric rise, the descent into pills and booze once the initial flame has dimmed, then either an untimely demise or, as in this case, redemption, self-acceptance, and comeback. Writer-performer Kirsten Holly Smith has rather cleverly begun the tale smack in the middle, when self-styled British soul singer Dusty Springfield was being a perfectionist pain during the 1967 recording of the Dusty in Memphis album (eventually recorded in NYC due to Springfield's problems with the ghosts of the Memphis recording studio and on which her iconic "Son of a Preacher Man" resides), allowing the audience to catch up with the singer's story and still follow it beyond her initial success.
Smith is quite captivating as a performer, evoking the essence of the Springfield voice without being so technically proficient as to seem lifeless. Where the original was cigar smoke, this is perhaps a heavy Turkish cigarette, but there's no denying the performer's charisma. Whether snappish, strung-out, or baring her soul -- though not her same-sexuality -- to the paying public, Springfield, as interpreted by Smith, is a multilayered creature who never lets the interest lag. Derick LaSalla's direction keeps things moving at a nice pace, while Lelah Foster and Annette Moore provide proficient backup vocals and occasional secondary-character cameos.
The four-man band, the entrance of which almost doubled the number of males in the packed room the night reviewed, is exceptional and covers what might have been overly long scene changes with verve. There's a rather intrusive head mike running down the middle of Smith's forehead when she sports a middle part; a bit of YouTube-ing reveals that Springfield was never averse to bangs, so why didn't wig designer Jasen Joseph Sica, whose efforts are appropriately overstyled and unnatural, just celebrate the face awning? Norman Cox's festively period costumes are on point, save for the Asian number that does no favors for the actor and which is worn for too long. The production is a fascinating look at someone who was far more than a collection of her hit songs.
Presented by Jorja Fox, Leslie Brockett/Bunnyhop Productions, and the L.A. Gay and Lesbian Center's Lily Tomlin/Jane Wagner Cultural Arts Center at the Renberg Theatre,
the Village at Ed Gould Plaza, 1125 N. McCadden Pl., L.A.
Thu.-Sat. 8 p.m., Sun. 7 p.m. Feb. 7-March 2.
(323) 860-7300. www.lagaycenter.org/boxoffice.