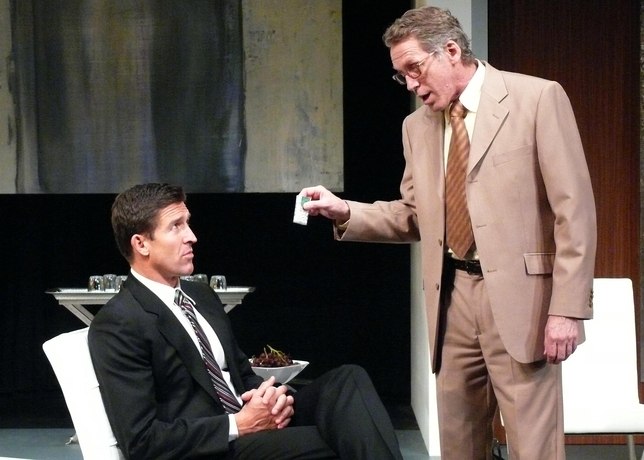 In the crisply antiseptic conference room of a huge multinational Fortune 500 corporation, four applicants gather to interview for the same coveted managerial job in the first U.S. production of Catalan playwright Jordi Galcerán Ferrer's "The Grönholm Method." The play, which debuted to much acclaim in Barcelona in 2003, is a scathing, delightfully twisted satire written before the days of Enron and the exposure of the high-level gluttony that made bankers our enemies. Watching Ferrer's brutally sociopathic characters in this English translation by Anne Garcia-Romero and Mark St. Germain, it's clear that big business' communal willingness to go to any lengths to beat out the competition has permeated other societies as well.
Jean-Paul Sartre meets Yasmina Reza as the candidates begin to realize that they are being pitted against one another, in a sort of corporate version of "Survivor," to see who is the most coldblooded and what level of humiliation they will accept to get ahead. Presumably watched over by unseen interviewers, the four well-manicured but primordially hungry applicants sit across from one another, politely sipping Voss water and discussing the horrendous traffic they had to endure to get there, until it's made clear that they're gathered to compete in a series of psychological tests. Instructions appear in sealed envelopes placed in a sliding automated drawer in a wall, the first announcing that one of the four is a plant from the company's human resources department and the applicants have 10 minutes to discover who it is.
Director BT McNicholl does a laudable job of keeping the action kinetic while leading his actors to remain calm, cool, and cagey. All four performers are outstandingly understated, though their roles could be played to the hilt of theatrical grandiosity. Lesli Margherita does a chilling job hiding the fragility of her character, Melanie, when faced with the play's most human challenge. Graham Hamilton's eager young go-getter Carl has the difficult task of deciding if one of the game's instructions is real or fabricated to fool his competitors. Jonathan Cake is endearingly slimy as the continuously wisecracking Frank, a man whose contempt for humanity becomes more and more apparent as the game goes on. Still, it is Stephen Spinella who makes the most lasting impression, as mousy pencil pusher Rick, whose excitement for playing the game proves disturbingly disingenuous.
The wonder of the play is Ferrer's sharply insightful humor. As each perverse mind game forces the quartet to exhibit a new level of heartlessness and degradation, what starts as a smart, quirky little comedy devolves into a scathing treatise on how modern corporate culture seeks out and rewards the most ruthlessly immoral behavior.
Presented by Baby Tiger Productions, Daniel Wallace, and Trish Whitehurst, in association with Falcon Theatre, at Falcon Theatre, 4252 Riverside Dr., Burbank. Aug. 17–Sept. 30. Tue.–Fri., 8 p.m.; Sat., 2 and 8 p.m.; Sun., 4 and 7 p.m. (818) 955-8101 or www.falcontheatre.com. Casting by Stuart Howard and Paul Hardt.
Critic's Score: A