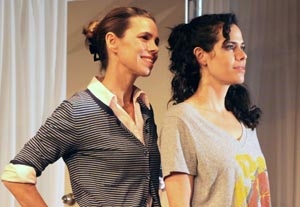 We were less desensitized to violence in 1998 when Diana Son's disarming comic drama debuted, especially those who choose to live an urban existence despite the sirens, horns, and screaming street population of 2011 Los Angeles, homeless capital of the nation. Today, presented on the mean streets of once-bucolic Hollywood, the story seems predictable, the protagonists' actions bordering on the naive. There are numerous not-so-subtle references to the craziness lurking outside the windows and within the beating walls of the Manhattan flat inhabited by TV traffic reporter Callie (Emma Jacobson-Sive), but she and her metropolitan compadres ignore the signs and leave their Mace at home as they go on a never-ending round of public transporting and trendy restaurant hopping.
Callie fosters the cat of Sara (Kelly Hill), a suburban schoolteacher relocated to New York and loving it, but friendship develops into unexpected attraction between the two women, who appear to be entering new territory as their relationship grows. This aw-shucks romanticism is shattered by a ludicrous lack of street smarts when a horrendous act is perpetrated after the women kiss in a public park. In Greenwich Village. At 4:15 in the morning.
Although Son's drama seems underwhelming in this day and age, her dialogue is arrestingly real, full of frequently interrupted sentences and unfinished thoughts. Beyond that, however, what makes this revival of a minor work intriguing is the gracefully balletic staging by co-directors Ken Barnett and Larry Biederman. The play's crisis situation unfolds out of chronological order, and Barnett and Biederman add almost surreal transitions to the dialogue's wit and grit, focusing on one single door mounted upstage on a pole with 360-degree flexibility and a billowing length of diaphanous white material, both used to cleanly suggest a new space with each scene change.
The directors' other ace is the uniformly excellent, heartfelt cast. Hill as Sara gives the kind of impressively uncomplicated and poignant performance that sticks in one's mind indelibly. Jacobson-Sive is quite good as her counterpart but is less comfortable dispensing the rhythmic Mamet-isms the script demands, while Cliff Weissman as a world-weary cop and Lisa Goodman as a bourgeois neighborhood survivor deliver some of the production's most smoothly authentic moments.
Presented by Four Letter Word Productions in association with Frantic Redhead Productions at the Lounge Theatre, 6201 Santa Monica Blvd., Hollywood. Nov. 12-Dec. 18. Fri.-Sat., 8 p.m.; Sun., 7 p.m. (800) 838-3006. www.brownpapertickets.com.