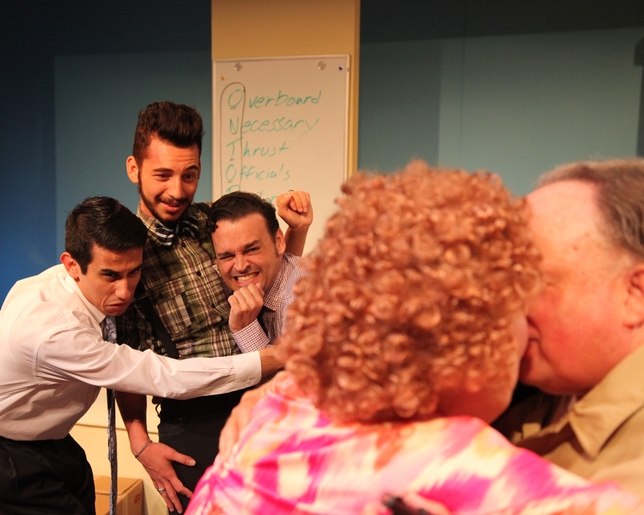 There comes a moment in the fast-paced contemporary screwball comedy "Strange Bedfellows" when one realizes that certain plot and character threads are suspiciously similar to those of "His Girl Friday," Howard Hawks' classic 1940 cross-gender version of Ben Hecht and Charles MacArthur's ever-durable stage play (and film) "The Front Page." Playwrights Andrew Black and Patricia Milton have borrowed liberally from Hawks' film, including the idea of a main character who is torn between two mutually exclusive paths and the police's frantic search of an office for an escaped convict who may be armed and dangerous.
At least Black and Milton have the talent to get away with such theft, having crafted a screwball comedy for our time that bears fruit in several ways. Gay and political stereotypes are turned on their ears, emerging as genuinely funny. Numerous witty one-liners are not only exceptionally clever; they exist to define character and advance the plot rather than for their own sake. Director Kevin L. Cordova's cast has the kind of clockwork timing so vital to farce, delivering reams of often-overlapping dialogue at machine-gun speed. The authors' characters are also juicier and more controversial than those of the film, and their incisive, flip writing skewers Democrats and Republicans alike.
As Nathan Zimmerman, the talented, idealistic, liberal gay man running for district attorney in conservative Orange Co., Calif., Nick McGee makes his grand entrance in a black leather ensemble: a motorcycle vest and bottomless chaps. While Nathan talks about increased exposure, his uptight, more conservative, yet also gay campaign manager, Antonio Marquez, uses a sweater to cover his boss' derrière. While Tito Ortiz's Antonio obviously finds Nathan exciting, it's also clear that he's miserable running a campaign sure to lose. His desire to quit and take a high-paying job at a New York City ad agency is the crux of the plot, making him the Hildy Johnson to Nathan's Walter Burns. But Ortiz and McGee elevate the material well above its familiarities. Ortiz is especially watchable. His Antonio is dark, brooding, and sensitive but also whip-smart, articulate, and a savvy political animal. McGee's Nathan may be more principled than his manager, but the actor's stage presence is less substantial than Ortiz's.
Cordova's able staging capitalizes on the presence of two characters given fine voice by the actors playing them. Icarus Zavala's natural gifts for comedy are well served by his role as a snarky intern who effortlessly tosses off retorts and insults while dreaming of becoming a filmmaker. Karen Wray's blunt, amped-up news reporter will stoop as low as necessary for the next big story. Robert P. Purcell, Glenda Wright, and Jeff Budner's roles are more standard and by the numbers yet still at times a hoot. Scenic designer Joey Baital's campaign headquarters looks like the real thing, and the uncredited sound design augments the frantic activity that, original or not, passes for good comedy.
Presented by Theatre Out at the Empire Theatre, 202 N. Broadway, Santa Ana. Aug. 17–Sept. 8. Fri. and Sat., 8 p.m. (Additional performance Thu., Aug. 30, 8 p.m.) (714) 220-7069 or www.theatreout.com.
Critic's score: B