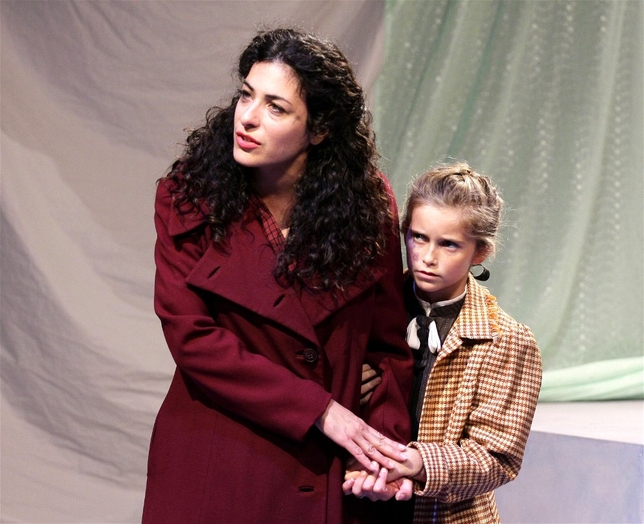 Author-producer Sonia Levitin has won awards for her literary efforts, but writing for the stage is another story. The dramatic structure of a play is inherently different from that of a novel, and the world premiere of Levitin's "Surviving Mama," although a heartfelt tribute to the difficult and heartrending life of her own mother, is well-meaning but in dire need of a script doctor to turn it into viable dramatic literature.
"Surviving Mama" is the story of Marlena, a rapidly aging Holocaust escapee who is defiantly trying to continue to live on her own in her small but deteriorating apartment as her two bickering daughters argue over her future. Her "favorite," Anne, is sympathetic to Marlena's wishes to stay independent, but Stella seems mostly motivated by getting on with her busy social life without familial distraction. An inventive set by Travis Tuyen Thi features stair-stepping platforms under layers of painted drops that fall to reveal each new location as Marlena's memory drifts back—in between watching episodes of "Jeopardy"—to her early years in pre–World War II Berlin and through various stages of her troubled marriage after fleeing to America. Along the way Levitin has included a series of clumsy direct address monologues that might work around the dinner table at family gatherings but onstage veer off into tangents having little to do with Marlena's plight.
Arva Rose, who stepped in for Lainie Kazan late in the rehearsal process, tries her best to bring Marlena into the real world, but the role is so crammed with stereotypes of feisty old age that finding a real person lurking below the character's cane waving and thick German accent would be a momentous task for anyone. Under the seemingly nonexistent direction of Doug Kaback, who appears to have lost his way staging the epic story in an unwieldy location, almost every supporting player grossly overacts. That's particularly true of Peter Lucas as Marlena's philandering husband, Gustav, whose grandstanding overpowers the other actors. As Stella, Sharon Rosner, with wildly exaggeratedly widened eyes and mouth perpetually pulled back in mock horror even when the script doesn't call for it, also offers a performance suited more for a one-person show than a collaborative effort.
The exceptions are Jerry Lacy, in a lovely, too-brief turn as Marlena's landlord Pinsky, and Gina Manziello, who's Anne is the show's one salvation. Manziello spends more time onstage than anyone else, playing both Anne and Marlena as a young woman, and she does a valiant job overcoming the script's shortcomings, Kaback's bumbling direction, and her rampaging costars. Manziello consistently finds sweetly simple nuances to explore and displays considerable patience in the face of overwhelmingly difficult odds.
Presented by Sunny Productions at Edgemar Center for the Arts, 2437 Main St., Santa Monica. Oct. 12–Nov. 18. (310) 392-7327 or www.survivingmamatheplay.com.
Critic's Score: D