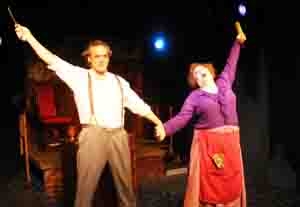 Stephen Sondheim's musical thriller has received wide-ranging interpretations since its original 1979 Broadway run, including John Doyle's controversial minimalist staging and Tim Burton's bloodcurdling film version. Director Derek Charles Livingston's audacious attempt to pare down this epic masterpiece for a tiny, minimally equipped venue generally succeeds. The 10-member cast demonstrates the acting chops and vocal prowess to meet the show's challenges, and Richard Berent's music direction and backstage accompanist serve the classic score beautifully. The efforts of these gifted craftsmen mostly make up for compromises imposed by the facility's limitations.
Sinking their teeth into the larger-than-life roles of murderous barber Sweeney Todd and his dotty accomplice, Mrs. Lovett, Kurt Andrew Hansen and Donna Pieroni make a gleefully nasty pair. Hansen imbues his role with the requisite deranged fury, and Pieroni gives him a run for his money in her seriocomic portrait of a love-starved lunatic. Their duet in the darkly hilarious "Little Priest," in which they compare the potential ingredients of Lovett's human meat pies, is particularly priceless. Adult performer Rob Herring is convincing and affecting as the eager-to-please shop boy Tobias, and his delivery of the gorgeous "Not While I'm Around" is sublime. R. Christofer Sands' comic portrayal of ostentatious Italian huckster Señor Pirelli is superlative, and his voice is magnificent. Jenny Ashman captures the demure grace of heroine Johanna, and her soprano voice is lovely. Brian Maples is likewise in stellar voice and elicits strong empathy as her suitor, the sailor Anthony. Other roles are skillfully filled by Weston I. Nathanson, Rick Cox, Nancy Dobbs Owen, and Harmony Goodman. All cast members form a chorus in the chilling "Ballad of Sweeney Todd" refrains and other musical bridges.
By necessity, August Viverito's basic set and minimal props vaguely suggest locations rather than depicting them. For the most part, this suffices, though it leads to confusing moments. Livingston's staging loses lucidity during the frantic final 20 minutes or so, when crucial story resolutions come across as fuzzy as the actors rapidly rush in and out. Yet the pluses outweigh the minuses in this melodic, amusing, and often terrifying revisit to one of Sondheim's most enduring works.

Presented by the Production Company at the Chandler Studio Theatre, 12443 Chandler Blvd., North Hollywood. Sept. 25–Nov. 22. Fri.–Sat., 8 p.m.; Sun., 3 p.m. (800) 838-3006. www.theprodco.com.