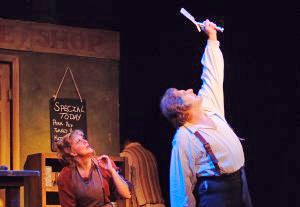 Stephen Sondheim and Hugh Wheeler's brilliant musical thriller has been interpreted in myriad ways following its 1979 Broadway premiere, including vastly scaled-down versions, John Doyle's wildly abstract take on the show, and Tim Burton's bloodcurdling film adaptation. Musical Theatre West's ambitious revival restores the original Harold Prince staging concepts, highlighted by a huge cast, elaborate sets, and hair-raising visual elements. Lo and behold, the show is an epic once again, and the terrifying story is told lucidly and emphatically. The blend of Grand Guignol theatrics, biting social satire, and Sondheim's ravishing music and lyrics make for an enthralling entertainment with an operatic flair. Director Calvin Remsberg has performed in major productions of this musical, and he has helmed a few renditions as well. He does a masterful job here of re-creating its time-proven virtues.
The uncredited sets eloquently conjure the underbelly of London in the mid-19th century—including a majestic series of bridges, Todd's treacherous barber chair equipped with a trap door, Mrs. Lovett's grungy pie shop, and other colorful locales. The costumes (likewise uncredited) are splendidly atmospheric, and Jean-Yves Tessier's superb lighting design expertly captures the diverse moods—from farcical to horrifying. John Glaudini's music direction and Remsberg's staging do full justice to this classic.
Heading the versatile cast, Norman Large and Debbie Prutsman fill the shoes of the demonic Todd and his deranged accomplice, Mts. Lovett, respectively. Large begins as a more subdued Todd than is customary, which makes his descent into murderous madness all the more chilling. His "Epiphany" is a thrilling tour de force vignette. Prutsman is perhaps a less dangerous Mrs. Lovett than we've seen, but she leavens the grisly goings-on with welcome humor. Both lead performers possess the skill required to beautifully serve the demanding score.
The cast is filled with spot-on portrayals: Michelle Duffy's raunchy yet pitiable Beggar Woman, golden-voiced Dan Callaway as desperately-in-love sailor Anthony, soprano par excellence Sarah Bermudez as the enslaved Johanna, Jim Holdridge as the abused yet cagey Tobias, Alan M-L Wager as the conniving Adolfo Pirelli, Richard Gould as vile Judge Turpin, and Roland Rusinek as the equally despicable Beadle Bamford.
Taming this challenging beast of a show proves a watershed achievement for MTW, among the proudest moments in the company's long history.
Presented by Musical Theatre West at the Carpenter Performing Arts Center, 6200 E. Atherton St., Long Beach. Jan. 30–Feb. 14. Thu.–Fri., 8 p.m.; Sat. 2 and 8 p.m.; Sun. 2 and 7 p.m. (No performance 7 p.m. Feb. 14.)(562) 856-1999, ext. 4. www.musical.org.