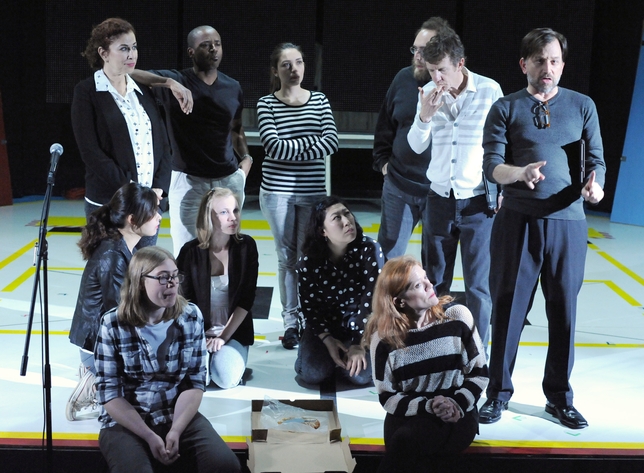 We are informed, via performers holding megaphones stationed around the house, that there will be "no doors" and "no pseudonyms" in what we're about to see. In a way, "Tartuffe Lab," the electrifying riff on Molière's comedy directed by Germany's Eberhard Koehler for the California Repertory Company, contains no plot or narrative through line either.
It doesn't matter. Koehler and his performing company of 13 have the essence of Molière's classic tale of artifice and hypocrisy, and they've got their own inventive abilities. For this exciting, offbeat, and hugely original performance, that's plenty.
The conceit is that the company of actors is ill prepared and its director has departed, possibly never to return. So using every prop, computer, half-baked notion, and bit of media they have at hand, the company members—whose personalities we grow to learn and mostly like—start going freeform. As it turns out, these actors do know a few shreds and patches of "Tartuffe," which they re-create in clever and oddball ways. Tartuffe's near seduction of Elmire, by way of example, takes place with Andre Garner, Karole Foreman, and Benjamin Lishner (as the hidden Orgon), rolling across the floor as their images are projected from above onto a screen, making the endeavor look like it's crazily airborne. The performers also make dexterous use of parts of F.W. Murnau's 1925 silent film adaptation of "Tartuffe," acting alongside it or providing interpretation—and trivia—as the need arises. Brian Mulligan gets hung up on a dripping candle.
The play's three central characters are shared among several actors. In one instance, Christopher Shaw and Roma Maffia do a pas de deux as Tartuffe and Elmire to four different translations of the same sets of lines as Foreman narrates – in French – as Molière. The players are called upon to sing, do stylized movement, interpret text, and utilize the occasional wacky prop (shaving a ventriloquist's dummy), but they also "play" themselves and make use of parts of their own lives to help bring the themes home. A rather disturbing encounter between a U.S. Customs officer (Garner) and Narges Noroozi, as herself, mirrors a real-life incident that happened to Noroozi's sister.
The evening's theme, not surprisingly, is hypocrisy: political, religious, cultural, and social. Given that Koehler's stylistic imprint is not what anybody should consider highfalutin, we get to contemplate, laugh, and participate without feeling like we're being bludgeoned by erudition or by folks who are too cool for the room. We don't get to partake of the cold pizza that is delivered to the cast slightly before intermission, but you can't have everything.
Said pizza contains a message from the director (notes and aids trickle in from all places): "Go deeper with the experiment." Always a fair bit of guidance, and the performers certainly oblige, but what Cal Rep has on its doorless, pseudonym-free stage is pretty darned terrific already.
Presented by California Repertory Company at the Royal Theater aboard the Queen Mary, 1126 Queen's Highway, Long Beach. Feb. 15–March 9. (562) 985-5526 or www.calrep.org.
Critic's Score: A