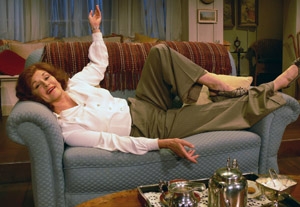 When Matthew Lombardo's solo play "Tea at Five" debuted locally in 2005, it seemed to be a CliffsNotes version of the life of a world-class eccentric—Katharine Hepburn—whose fierce individuality deserved better. Absent was what it has in this production: a director possessed of the uncanny gifts of Jenny Sullivan, and an actor of the quality of her frequent muse, Stephanie Zimbalist—artists able to find the subtle textures and nuances below the surface.
In Act 1, Zimbalist creates Hepburn simply and with humanity. It's 1938, and Hepburn paces the room wailing about her passion to play Scarlett O'Hara and seeing herself looking "like Boris Karloff in a jumpsuit," while spouting authentic Hepburnian revelations such as, "I think we all are born Democrats. Those who become successful and make money become Republicans." As good as Zimbalist is here, it's in Act 2, unfolding in the same location in 1983, where her performance rises from extremely good to absolute perfection. Here she brings the doddering but ever-strong legend to glorious life—the quavering voice and familiar unkempt gray hair tucked into itself are dead-on. My only complaint is the section in which Hepburn talks "candidly" about her relationship with Spencer Tracy as though they were lovers, while Phyllis Wilbourn, her companion for the last 41 years of her life, is mentioned peripherally only twice.
Dorothy Parker said of one of Hepburn's early stage performances, "Go to the Martin Beck and see Katharine Hepburn run the gamut of emotions from A to B." Luckily for Hepburn aficionados and her last remaining adoring friends, her current resurrection at the Falcon makes it all the way from A to Z—for Zimbalist.

Presented by and at the Falcon Theatre 4252 Riverside Drive, Burbank. Oct. 22–Nov. 14. Wed.–Sat., 8 p.m.; Sun., 4 p.m. (818) 955-8101 or www.falcontheatre.com.