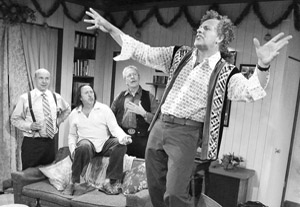 This bittersweet comedy by Charles Bartlett and Jack Cooper centers on four San Fernando Valley guys who, back in the 1960s, were members of a rock group called the Weeds—whom we see in their youthful heyday via a colorful photo montage. The four achieved moderate success but then quarreled, leading to an ugly and acrimonious breakup.
Lead singer Mark (Tait Ruppert) had written the songs, but the group's businessman, Skip (Bruce Katzman), had financed the group and demanded the rights to its music. In a bitter showdown, he threatened to sue them if they so much as hummed the songs in the shower.
Now Mark is a feckless aging hippie, pining for the long-gone days of glory and teaching counterculture classes at a college in the Valley. When a record company approaches him about including Weeds songs on a "Voices From the Past" album, his pipe dreams are rekindled. He wants to relaunch the group, schedule concerts and tours, and relive the days when "they were cool and the band was hot." Gay keyboardist Gabriel (Guerin Barry), now working as a lounge pianist, is happy to go along, as is drummer Albert (John Bigham), now an impecunious chiropractor. But Skip has become a wealthy businessman, with a Japanese wife and a mansion in Calabasas. And he has become—gasp!—a Republican. Mark is too fearful of Skip's disapproval to broach the deal with him, so he invites the guys to a Christmas party, with explosive results. Skip is furious with Mark for taking him for granted and making plans without him. The evening becomes volatile—including fights, confrontations, and emotional collisions.
There are gaps in the script's logic and holes in the plot, but director Rick Sparks is expert at finessing the problems, and the performances are solid. Katzman gives Skip a brisk, no-nonsense skepticism that's an admirable foil for Ruppert's maddeningly unrealistic Mark. Barry lends Gabriel an urbanely rueful edge, Bigham scores comic points as Albert, and Kelly Lester provides a stylish counterpoint as Mark's chocolate-loving, disillusioned wife.


Presented by Theatre Planners at the NoHo Arts Center, 11136 Magnolia Blvd., North Hollywood. Oct. 3–Nov. 8. Fri.–Sat., 8 p.m.; Sun., 3 p.m. (323) 960-7745. www.plays411.com/perfect.