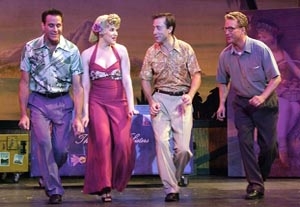 Those seeking a couple of hours of World War II nostalgia will know they've come to the right place during a wonderful preshow compilations of clips: assorted USO newsreel footage, Kate Smith belting out "God Bless America," a
Looney Tunes
cartoon, and much more. This jukebox musical by Roger Bean (
The Marvelous Wonderettes
), set on a Pacific island Army base, shoehorns beloved songs of the 1940s into a minuscule story about sassy pinup girl–turned–USO singer Peggy Jones (Bets Malone) and three eager but bungling stagehands (David Engel, Larry Raben, and Stan Chandler, original
Forever Plaid
members), who connive to get into the act. When the headlining Andrews Sisters must cancel their appearance at the last minute, the trio of wannabe stars gets decked up in wigs, makeup, and high heels, joining Peggy onstage for an evening of melody and mirth.
Director Nick DeGruccio is superbly abetted by music director–conductor Lloyd Cooper and choreographer Roger Castellano. Their collaboration yields a flavorful time capsule, conjuring the unpretentious charm of 1940s B-movie musicals, seasoned with a touch of
Some Like It Hot
. Unfortunately, this rendition isn't fully successful in mining the comic potential of Bean's vehicle. The cross-dress gambit allows for great laughs here and there, yet the slapstick antics are more restrained; this mounting feels closer to a standard revue. There's no carping in that area, however. These four accomplished pros make the most of the evergreen material, singing and dancing up a storm in a boffo cavalcade of golden oldies.
The vivacious Malone is at her sultry best in the scorching torch number "I Wanna Be Loved" and when seducing neurotic Patrick (Raben) in the lovely "On a Slow Boat to China." The group numbers are gleefully entertaining, particularly "Ac-Cent-Tchu-Ate the Positive," "Boogie Woogie Bugle Boy," and the "Plain Jane Doe" tap quartet.
Salutes are due for the atmospheric rented sets and costumes, Christina L. Munich's lush lighting, and Terry Hanrahan's colorful props and set decoration.

Presented by FCLO Music Theatre at
Plummer Auditorium, 201 E. Chapman Ave., Fullerton.
July 10–26. Fri.-Sat., 8 p.m.; Sun., 2 p.m.; (Additional performances Sun., 7 p.m., July 19 and Sat., 2 p.m., July 25.)
(714) 879-1732. www.fclo.com.