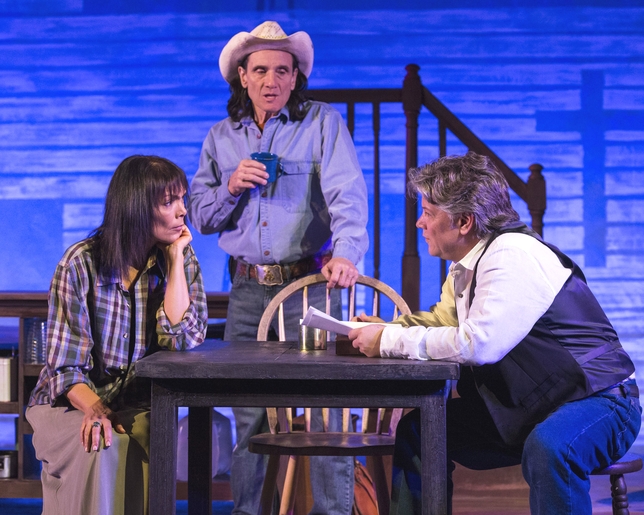 There's an incredible amount of passion and hard work evident in Native Voices world-premiere mounting of Diane Glancy's "The Bird House" at the Autry. Any endeavor afforded this much time and heart by so many well-meaning people must be applauded, if only for its grit. Unfortunately, Glancy offers nothing original to ponder, and her vision is nowhere near as uncluttered as it needs to be.
Though the story of a fundamentalist preacher in a tiny, impoverished West Texas community fighting to save his church from the wrecking ball while enduring a personal battle with diminishing faith isn't new, the potential exists for a fresh spin on it. Unfortunately, too many characters, predictable theatrical conventions crashing headlong into one another, and an endless string of clumsy, slow-moving transitions between short episodic scenes more suited to a screenplay curtail Glancy's attempt.
As "Hawk" Logan, the preacher whose congregation has dwindled to 15 as his town is decimated by joblessness and contaminated ground water, Randy Reinholz almost gets it right, but director Robert Caisley's self-conscious staging hampers him. The Reverend Hawk's Book of Job–obsessed sermons and repetitive private conversations with God are delivered directly out front, above the heads of audience members, and don't connect. In Hawk's mind he is being tested, just like Job, but unlike in the Bible the downward spiral continues and nothing is ever resolved. Hawk's last sermon before packing to look for a job, possibly as a greeter at Walmart in Lubbock, imparts Glancy's final message: "We live, we suffer, we die." With that, the reverend says goodbye to his adoring half-sister Majel (Carla-Rae) and leaves for an even worse new life. Thank you, Jesus!
As Majel, Carla-Rae is honest and simple in her choices, but the script leaves the character with nowhere to go except to come to the realization that "hope is a trap." As Clovis, another suffering sister, Ellen Dostal faces impossible odds in a role that feels lifted from another story. After being felled by a stroke, a spotlighted Clovis occasionally pulls out of her slurred, drooling persona to address the audience about the horror of being trapped in her body. Unfortunately, the distracting device has nothing to do with the rest of the play.
Tyler Cook does his best as a member of the church board who periodically arrives to convey ever-worsening news, but Robert Owens-Greygrass delivers the finest performance, as crusty old cowboy Rope. Although his character also has little to do with Hawk's dilemma, Owens-Greygrass is a breath of fresh air whenever he appears, the only actor in the production whose acting doesn't show.
It's as though the playwright's own questions about the nature of faith keep "The Bird House" grounded as it tries to fly from the roost. The depressing muddle of these queries clips the characters' wings, leaving them too earthbound to care about.
Presented by Native Voices at the Wells Fargo Theater at the Autry National Center, 4700 Western Heritage Way, L.A. March 1–17. (323) 667-2000 ext. 354 or www.nativevoicesattheautry.org.
Critic's Score: D+