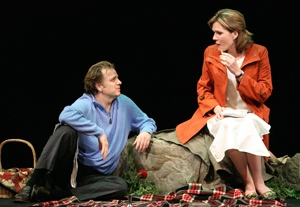 Playwright-screenwriter Neil LaBute's best works, such as "Fat Pig" and "The Shape of Things," provoke controversy and stimulate thought on vital social issues. In his latest play, now in its West Coast premiere, the prolific scribe sets forth complex and interesting ideas: religious faith and its place in the modern world, plus our struggle to maintain social conscience in a morally ambiguous culture. Unfortunately, the piece seldom feels coherent, let alone engaging. Director Jo Bonney and a four-member ensemble cast make an admirable effort, but the material mostly comes across as pretentious and underinspired.
Following a flash of blinding lights, the story opens with a monologue by generically named John Smith (Kevin Anderson), who has just survived a workplace bloodbath after a disgruntled employee murdered most of the employees in an office. As John describes the atrocities in harrowing detail, the production promises a disturbing but powerful experience. John heard the voice of God during the melee and sees this as a chance to metamorphose from one of LaBute's typically loutish male characters into a good human being.
From there, the play rambles around through a series of seemingly disconnected encounters. Various characters, played by Tracee Chimo (a sardonic prostitute and a ludicrous talk-show hostess), Catherine Dent (John's ex-spouse and her cousin with whom John has had an affair), and John Earl Jelks (an attorney and a detective) interact with John as he pursues his newfound objective as a prophet of redemption, spreading the Lord's message to the world. His mission becomes predictably problematic. This slinky leopard won't be shedding his spots, and the would-be beneficiaries of his epiphany seem unlikely to learn anything from him. The clichés in this script are so obvious that one can imagine how Neil Simon might have taken this same premise and flipped this wannabe morality tale into a raucous satire.
Bonney attempts to find a proper balance between ironic humor and the play's dark undercurrents, with intermittent success. The design elements are capably rendered, though there's a bit too much bombast in Darron L. West's sound, Justin Ellington's music, and David Weiner's lighting, evoking a melodramatic tone that works against the piece's apparent loftier ambitions. Anderson is a resourceful actor who excels in the opening and closing scenes, and manages to eke interesting moments out of the largely contrived episodes in between. The energetic and witty Chimo fares best in her two roles, particularly as the hooker with a heart, and Dent is solid in her double portrayals. Jelks offers creditable support in his characterizations.