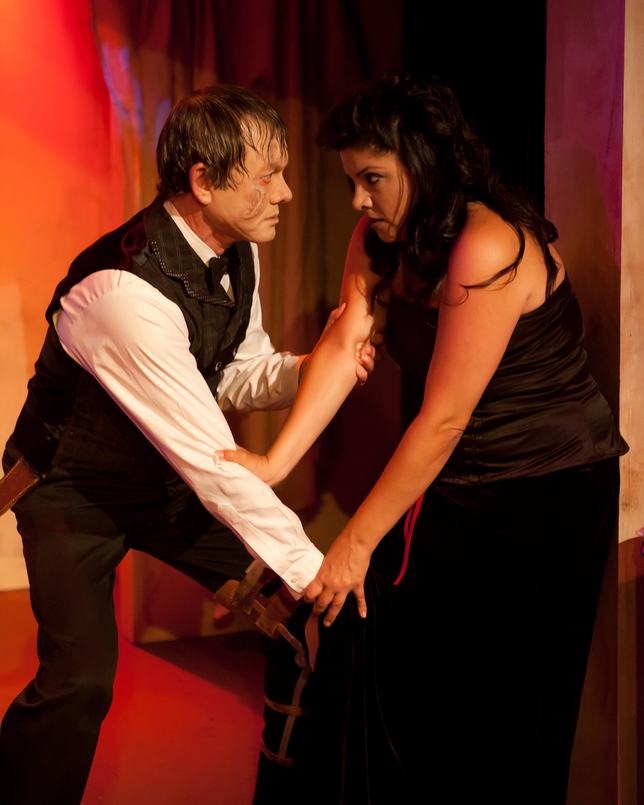 If "The Changeling," Thomas Middleton and William Rowley's 1622 tragedy, tells us anything, it's that human nature hasn't changed much in 400 years. We are a selfish, greedy lot, often driven by lust or the possibility of besting our enemies, and if something is coveted badly enough, the ends always justify the means. That director Dave Barton's new adaptation makes the play more accessible to today's audiences is just icing on the cake. Change a few of the names and characters' identities, and this dark tale easily could have been derived from newspaper accounts or a segment of "48 Hours."
Considered among the best tragedies of the English Renaissance, the Jacobean tale is split between a main story line and a somewhat-related subplot, but the primary one is the most compelling. In it, Beatrice (Terri Mowrey) agrees with her father's choice of nobleman, Alonzo (Nick Ventra), as her husband-to-be, even though she has no feelings toward him. When she meets handsome visitor Alsemero (Conor Turoci), she feels stirrings of desire, and he clearly feels the same. Beatrice plots to kill two birds with one stone: She'll enlist DeFlores (Rick Kopps), her dad's hideously deformed servant, to kill Alonzo, then pay him to leave the country, freeing her of her unwanted fiancé and of DeFlores, who for years has loved her from afar. DeFlores does the deed but tells Beatrice that she's as guilty of murder as he is, blackmailing her into sleeping with him. Things grow further complicated and considerably bloodier when Tomazo (Maxwell James Tomaszewski) swears vengeance for his brother Alonzo's murder. Alsemero eventually learns the truth about Beatrice and DeFlores' conspiracy, triggering a downward spiral of violence and setting up a climax rife with startling bloodshed.
Barton's outstanding adaptation is true to the original text but admirably clarifies it while providing more-plausible character motivations. His staging is faithful to the revenge-tragedy genre, spiced with sexually forward humor, R-rated nudity, and graphic violence—an unusually adult vision of 17th-century tragedy. The ugliness of murder, deceit, and retribution are played to the hilt for dramatic impact but also with welcome elements of macabre humor. While the secondary tale, set in an insane asylum, offers effective performances and provides elements of commedia-like slapstick, our attention is wholly engulfed by the main plot line.
Mowrey's Beatrice is radiant and sturdy as she bears bitter disappointments. The actor presents Beatrice in both dramatic and low-comedic lights, using asides and hearty laughter to form an instant bond with the audience. Kopps adds subtle shadings to his glib, wily DeFlores, inviting us to feel for the man's self-loathing and surprisingly pure love for Beatrice. In a solid cast, memorable supporting performances include Jessica Lamprinos' impish Diaphanta, Beatrice's woman in waiting, and Tomaszewski's ruthless Tomazo.
With "The Changeling," Barton offers a clear-eyed vision of humanity's dark underbelly.
Presented by and at Long Beach Playhouse, 5021 E. Anaheim St., Long Beach. Sept. 1–29. Fri. and Sat., 8 p.m.; Sun., 2 p.m. (562) 494-1014 or www.lbplayhouse.org.
Critic's Score: A-