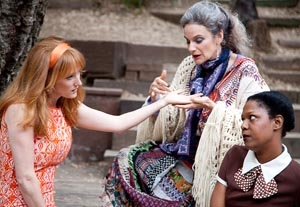 Ellen Geer and Heidi Helen Davis have adapted Chekhov's classic, updating its setting and language to 1970 on a plantation in Virginia. Lillian Randolph Cunningham and her brother Gates Randolph were monied Virginians who have frittered away the family wealth. Lawrence Poole, a son and grandson of their slaves, has worked hard to be able to buy their property, called The Cherry Orchard, at auction. Yes, the original play is alive and well in this thoughtful paraphrase.
But although we wondered where their Russian counterparts would have gone in the 1900s, there's no chance the 1970s Randolphs will wander the steppes, eating grasses. Like the Gloria Gaynor song that closed out the mercurial decade, they will survive. In that respect, the update takes away any empathy for these characters. However, it puts front and center Chekhov's serf-class characters, here the descendents of slaves. And in this cast of black and white actors, the visuals make the lessons fully conspicuous.
Lillian's daughter, Anna, is a lovely mix of strength and delicacy in the hands of Willow Geer. Lillian's adopted African-American daughter, Velina, is still spinsterly, played by Tippi Thomas. But in the most fascinating of the updates, former tutor Terrence Moses is a black radical, the kind whose blossoming mind was finally allowed to reveal itself to the white world in the 1970s. He is played to great success by Marc Ewing with a period mix of proud righteousness and respectful gentility in the presence of the family who gave him a start. Steve Matt, playing Lawrence, has less success conveying a sense of period or person.
Most disappointing, Lawrence and Velina don't make their feelings readily apparent. Directed by Davis, neither actor is encouraged to play any subtext; those who don't know the play will assume the two have no feelings whatsoever on the topic of—or need for—marriage.
In a performance noteworthy for its "public solitude" onstage, William Dennis Hunt is involving as Gates. But Ellen Geer gives the most intriguing performance of this production. Her Lillian is a Southern belle, carefree but stubborn, restless and reactive, delusional and proud of it. Geer begins outsized, so her character can take a tumble.
The sound of power tools at the play's end lets us know the past is being dismantled forever. In 1970s America, some of that was a very good thing. For these characters, however, in the words of another '70s song, what we need is a change of heart.
Presented by and at the Will Geer Theatricum Botanicum, 1419 N. Topanga Canyon Blvd., Topanga. June 27–Sept. 26. Repertory schedule.
(310) 455-3723. www.theatricum.com.