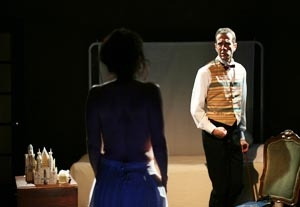 This troupe, under John DeMita's less-is-more direction, delivers a sensitive, intimate revival of Bernard Pomerance's 1979 exploration of the world of the social outcast–turned-celebrity John Merrick. Though heavily dependent on a strong lead performance,
The Elephant Man
is an ensemble piece, and this versatile cast is on the same page in tone and style, creating a fully realized moody, mysterious world.
Except for one significant miscue in the second scene—Brian George forgot the lines to his opening monologue the evening reviewed as Ross, the exploitative huckster, and he left the stage empty for 15 seconds—the production ran at a brisk pace for its 100-minute running time. The anchors are leads Daniel Reichert and Andrew Matthews, whose contrasting performances create tension and intrigue. Reichert, as the title character, uses contorted face and body to convey total transformation from frightened victim to confident man. Matthews portrays Treves, the doctor who takes Merrick into the London hospital but whose unchecked ego causes Merrick to unravel. The other impressive performance comes from Abby Craden as Mrs. Kendal, the actor who befriends Merrick. Craden gives Mrs. Kendal strength: by downplaying the character's sense of horror when she first meets the deformed man and by a sharp sense of humor through her frequently dry, sarcastic tone.
DeMita uses spotlights on stage, moved by actors, which cast funhouse-style shadows and enhance Dan Volonte's moody lighting. A child Street Violinist (Max Quill) provides eerie live music. Despite the small theater space, scene transitions are smooth, thanks in part to a minimal set designed by Steve Markus. Though the look and the performances border on twisted fantasy, a sense of realism keeps the story dramatic. At its heart
The Elephant Man
is a study about what it means to be human, which this production never forgets.

Presented by Andak Stage Company at the New Place Studio Theatre, 10950 Peach Grove St., North Hollywood. May 16–June 21. Thu.–Sat., 8 p.m.; Sun., 3 p.m.
(866) 811-4111
.
www.andak.org
.