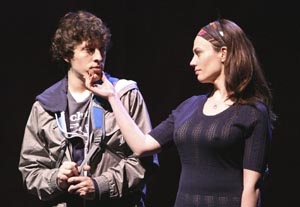 In Jane Anderson's highly provocative new play, there are echoes of such works as Mike Nichols' "The Graduate" and a hint of classic French sex farce. Yet it's hard to recall when a work exploring sexual mores felt as fresh and daring as "The Escort" does.
The funny yet startling piece probes attitudes toward sexuality in our culture—how personal notions of eroticism fit into our emotional equilibriums; how we resist the impulse to judge the sexual behavior of others; and when liberalism crosses the boundary between enough and too much. Though the literate script could use tighter focusing in its narrative development and thematic musings, director Lisa Peterson ensures that consummate ensemble acting and vibrant, imaginative staging smooth out most of the wrinkles.
The play's key relationship is between the sophisticated and shrewd Manhattan call girl Charlotte (Maggie Siff) and her ostensibly open-minded new gynecologist, Rhona (Polly Draper). Rhona is drawn to Charlotte's guilt-free attitudes and worldliness, as this divorcee is currently dealing with concerns about the blooming sexual curiosity of her 13-year-old son, Lewis (Gabriel Sunday), who has discovered the allure of porn.
Rhona is also pondering the odd possibility of resuming sexual activity with her stuffy ex-husband, Howard (James Eckhouse, who excels in this role, as well as a few others), a fellow physician. The play becomes more thought-provoking and engrossing in the second act, when Rhona meets up with a young male hooker, Mathew (also Sunday), arranged by Charlotte, and Howard enlists a prostitute.
The complications—best kept a surprise—evoke simultaneously hilarious and sobering responses. A welcome inspiration—explained to the audience right before the first scene by a fourth-wall-breaking Charlotte—is that the play's several nude scenes are performed with the actors in body suits. This thankfully puts the focus on the sharp and all-important dialogue, where it belongs.
Draper brings myriad shadings to the role of a doctor who needs healing, enlisting our empathy as a middle-aged woman facing troublesome emotional dilemmas. Siff superbly captures the intelligence and manipulative qualities of her character, appearing increasingly complex as the play progresses. The versatile Sunday evokes wit and charm as the sassy, self-aware teenager and deftly mines the character of call-boy Mathew for ribald humor as well as poignancy.
Classy design elements (Richard Hoover's set, Laura Bauer's costumes, Rand Ryan's lighting, Paul James Prendergast's original music and sound) match the chic sensibility of Anderson's smart and sexy new work.
Presented by and at the Geffen Playhouse, 10886 Le Conte Ave., Westwood. Apr. 6–May 8. Tue.–Fri., 8 p.m.; Sat., 3 & 8 p.m.; Sun., 2 & 7 p.m. (310) 208-5454. www.geffenplayhouse.com.