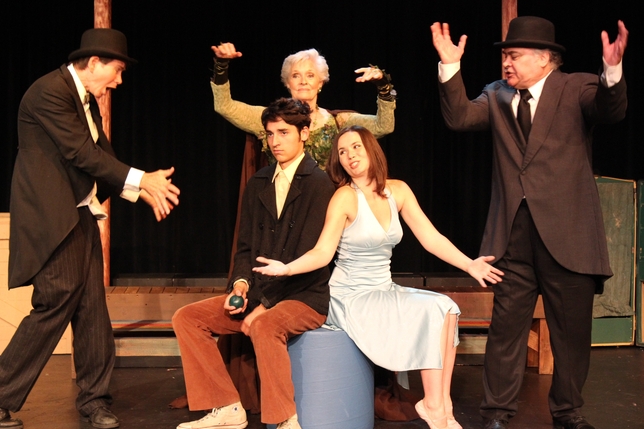 Tom Jones and Harvey Schmidt's "The Fantasticks," a dreamy, understated show that is more poetic than plot-based, centers on Matt and Luisa, a pair of naive, star-crossed teenagers. Their fathers build a wall between them and organize a dramatic abduction in an attempt to bring their children together, and in the end their reverse-psychology scheme works. The show, which opened Off-Broadway in 1960, bears a few signs of its age in moments of political incorrectness, but for the most part its themes of youthful wonder, fatherly love, and the necessity of disillusionment are timeless.
This production opens with a flourish of confetti and a display of fanciful staging. Charlie Mount's energetic direction immediately grabs the audience's attention and holds it throughout. His lively account of the "Abduction Ballet" at the end of the first act, which engages the entire eight-person cast in antic mimed sword fights and dances, is one of the show's high points.
Mount's actors, for the most part, are up to the task of his high-energy staging but can't always handle the music. As Luisa, Molly Reynolds acts with charming girlish enthusiasm. However, her vibrato-heavy singing style sounds too mature for the role and too operatic for the show's folksy musical style. The talented Joey Jennings is perfectly cast as Matt, capturing the boy's confused adolescent stubbornness and singing impressively. Steve Nevil and Roger Kent Cruz, as Hucklebee and Bellomy, the vaudevillian fathers, are amusing and memorable. Their song "Never Say No" is goofy and endearing. The character of El Gallo serves both as a narrator and a participant in the story, and while Lukas Bailey brings a touch of the dashing villain to the part, he struggles with its vocal demands, often appearing out of breath. As El Gallo's assistant players, Henry and Mortimer, Don Moss and Yancey Dunham entertaining work is packed with well-executed physical comedy. Just because Lee Meriwether's Mute never gets to speak doesn't mean that she fails to register. The actor earns well-deserved laughs with her smirks and gestures.
The show's technical elements are complementary to its playful direction and funny performances. The set, with its oversize toy boxes and painted moons, designed by Jeff G. Rack, gives the show a lighthearted, whimsical look. The simple three-piece onstage musical ensemble (Graham Jackson, Jeff Friedland, and Michael Wachs) provides an appropriately mellow lullaby sound.
It's hard to go wrong with a musical that audiences have already loved for more than 50 years. Though this production isn't perfect, it is enjoyably fantastical.
Presented as a Chestnuts Production by and at Theatre West, 3333 W. Cahuenga Blvd., L.A. Aug. 31–Oct. 7. Fri. and Sat., 8 p.m.; Sun., 2 p.m. (323) 851-7977 or www.theatrewest.org.
Critics Score: B