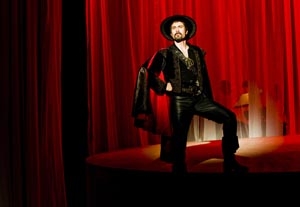 Musical theater fans trying to remember the kind of September when this beloved Tom Jones–Harvey Schmidt tuner wasn't playing won't be able to think of many. Now a nationwide chestnut, the original Off-Broadway show—based on Edmond Rostand's play
Les Romanesques
—ran a record-breaking 42 years, beginning in 1960, then resurfaced there in 2006, where it's still running.
The show's fragile amalgam of rueful romance, whimsy, slapstick, and metaphorical fable calls for a delicate balance of moods and styles. Unfortunately, director Jason Alexander's reinvention of the piece favors ham-fisted burlesque over wistful lyricism, obscuring the bittersweet beauty at the play's core. There are moments—mostly in the second act—when the cast and production team surmount the excesses, eliciting literacy and musical splendor.
Standing out in the ensemble is Lucas Grabeel, a young actor-singer exhibiting a confidence and polish beyond his years. As the passionate and adventurous romantic hero Matt, he sings terrifically and projects a boy-next-door likability. As Luisa, the girl of his dreams, Alison Woods likewise has a lovely voice and a natural charm, though her early scenes suffer from Alexander's excessively stylized approach to character interpretations and comes across as cloying. Veteran troupers Harry Groener and Eileen T'Kaye, as the respective single parents of Matt and Luisa, clown around felicitously, particularly in their comic duets "Never Say No" and "Plant a Radish." Eric McCormack makes a valiant effort as the conniving El Gallo and narrator, though his Hispanic-dialect lyrics are completely garbled in the "Abduction Ballet." Furthermore, he lacks the forcefulness that this crucial role requires.
Hap Lawrence's and Barry Dennen's protracted antics as the goofy travelling actors are more often strained than amusing. Kimberly Mikesell is nimble and appealing as The Mute, but the imposition of her shenanigans onto too much of the action becomes wearisome and distracting. In general, Alexander would do well to trust the classic story and gorgeous songs more and let up on the intrusive shtick. The design effort is stylish and suitable to the show's magical ambiance, and there are solid contributions from music director–orchestrator Darryl Archibald and choreographer Lee Martino.
Presented by Reprise Theatre Company at the Freud Playhouse, Sunset at Hilgard, UCLA campus. May 6–17. Tue.–Fri., 8 p.m.; Sat., 2 and 8 p.m.; Sun., 2 and 7 p.m. (310) 825-2101.
www.reprise.org
.