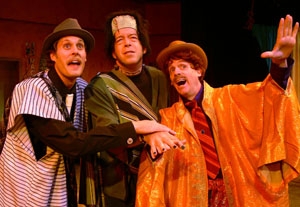 Why shouldn't commercialism creep its way into Troubadour Theater Company Christmas show? It's everywhere else, and nobody produces a wittier or more laugh-filled event than the theater company's take on familiar works combined with music. This time, 20 of Billy Joel's famous and not-so-famous tunes are integrated into the Bible's nativity story. Director Matt Walker combines groaners, ad-libs, and audience participation into a frothy and well-executed production.
The scene is the Bethlehem Inn, where Letty (Katie Nunez) and Manolo (Matt Morgan) are expecting their first child. The catch is that her innkeeper parents, Greta (Lisa Valenzuela) and Nicholas (Jack McGee), aren't thrilled, until they start to recognize the lucrative potential suggested to them by the Three Wise Guys: Gold (Walker), Frankenstein (Morgan Rusler), and Myr (Brandon Breault). With nods to the circus and a bit of Three Stooges thrown in, these three are classic vaudevillians. Rusler nearly steals the show.
Three Angels (Christine Lakin, Katherine Malak, Jackie Seiden) provide beauty, glamour, and acrobatic choreography by Molly Alvarez. Rusler doubles as King Herod, and the incomparable Beth Kennedy is triple cast as Herod's assistant, Winter Warlock, and Hot Dog on a Stick's plunger girl. Kennedy is a natural and notable comedienne. Joseph (Walker) and Mary (Malak) arrive at last, seeking shelter for the impending birth. Guess what. There's no room except in the stable where Manolo works.
The Troubie band (Eric Heinly, Tori Ruffin, Kevin McCourt, Justin Panariello, and Hayan Charlston) are great musicians, the accomplished vocals by the cast can be funny or moving, as the story dictates. The lyrics are cleverly tailored to the action onstage for such favorites as "Tell Her About It," "Movin' Out," "My Life," and "Only the Good Die Young." The Troubadours are an acquired taste, like chocolate: Once you become addicted, you can't stay away.
Presented by Troubadour Theater Company at the Falcon Theatre, 4252 Riverside Dr., Burbank.  Dec. 10–Jan. 16, 2011. Wed.–Fri., 8 p.m.; Sat., 4 and 8 p.m.; Sun., 4 and 7 p.m. (Dark Dec. 25–26, 31, and Jan. 1. Added show Tue., 8 p.m., Dec. 21.)  (818) 955-8101. www.falcontheatre.com.