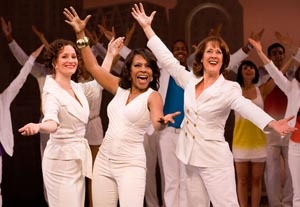 Less than a year after the debut of Dolly Parton's "9 to 5: The Musical," here's another pre-Broadway tuner based on a film comedy from yesteryear about fed-up women scheming to wreak revenge upon chauvinist-pig men. The menopausal chick flick "The First Wives Club" (1996), based on the novel by Olivia Goldsmith, primarily demonstrated that mediocrity needn't preclude box-office success, particularly when such stars as Bette Midler, Goldie Hawn, and Diane Keaton lend their cachet. This latest recycling (book by Rupert Holmes; pop score by Motown tunesmiths Brian Holland, Lamont Dozier, and Eddie Holland) proves that crassness has no limits. As if Holmes' crushingly unimaginative regurgitation of the film script wasn't enough, tedious songs further sabotage the enterprise.
Formulaic to the hilt, this version offers ciphers in place of characters and sloppily related plot points rather than narrative fluidity. The arbitrarily inserted songs don't illuminate the story or characters. There are at least a half dozen "I am woman, hear me roar" ballads that are hard to tell apart, two or three up-tempo showstopper wannabes, and a handful of other superfluous numbers. The songwriters enjoyed chart-topping triumphs in the 1960s, writing for the likes of the Supremes, but they seem oblivious to the craft of fashioning book-musical songs, and apparently no one involved was able to provide guidance.
Seasoned performers make futile attempts to energize the proceedings. As the crusading wives, Karen Ziemba, Sheryl Lee Ralph, and Barbara Walsh give everything they have to Lisa Stevens' trite choreography and the colorless songs, to little avail. Playing the louts who left the wives for younger women, John Dossett and Kevyn Morrow huff and puff their way through misfired gags, while Brad Oscar generates modest laughs in a zany commercial-filming sequence. Sara Chase's portrayals of all three "other women" never advance beyond clichés. As a flamboyant designer, the usually terrific Sam Harris is stuck playing a one-note fag stereotype.
Even the design elements lack inspiration; this is a surprisingly bland-looking Broadway-bound confection. Think of director Francesca Zambello's world-premiere rendition as the "Stepford Wives" of women-empowerment musicals: Watch it jerk and sputter as its misaligned ingredients short-circuit.
Presented by and at the Old Globe Theatre, 1363 Old Globe Way, Balboa Park, San Diego.
July 31–Aug. 30. Tue.-Wed., 7 p.m.; Thu.-Fri., 8 p.m.; Sat., 2 and 8 p.m.; Sun., 2 and 7 p.m.
(619) 234-5623. www.theoldglobe.org.