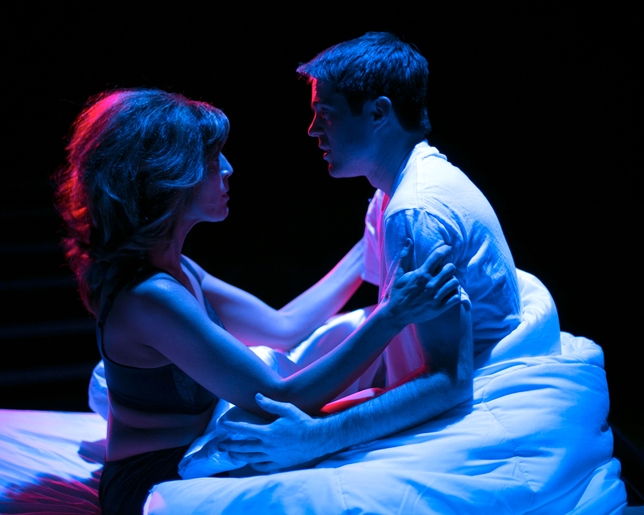 Anyone staging "The Graduate" lives in the shadow of the landmark 1967 film and its caustic brilliance and indelible images and sounds. Charles Webb's 1963 source novel is equally pungent. Once you've experienced either, the impressions they leave are hard to erase. Terry Johnson's 2000 stage adaptation takes a couple of leaps backward. His new scenes, nonexistent in both novel and film, are obviously meant to allow him some originality. Instead, they detract from the compelling characters, story, and themes that made "The Graduate" an instant classic and an unforgettable expression for those coming of age in the tumultuous '60s.
Director Carl DaSilva and his cast are thus hamstrung right out of the gate. It would take a raft of inspired performances plus a masterful production design to allow this "Graduate" to pass with flying colors. Here, we get only half of the equation. The set (Naomi Kasahara), lighting (Daniel Bergher), sound (DaSilva and Sean Gray), costumes (Donna Fritsche), and hairstyles (Melissa Martin) combine to accurately re-create the look, sound, and emotional sense of the era. Kasahara's flexible schema accommodates a wide range of settings: Benjamin's bedroom; a Los Angeles hotel lobby, bar, and guest room; a boardinghouse room in Berkeley; and a church vestry. Its most striking feature, an expanse of watery blue atop the upstage rear wall, represents the Braddocks' swimming pool and the morass of Ben's life. The entr'acte musical selections, mostly contemporary covers of Simon and Garfunkel songs, are as integral to the tone and mood as they were in the film, and DaSilva's accompanying video offers a broader cultural perspective through gritty black-and-white and, in later scenes, color images of 1960s America.
Eric Pierce and Lori Kelley make the roles of Benjamin and Mrs. Robinson their own, but in trying to avoid imitation the actors have shed elements crucial to both characters. Pierce's persona is awkward and indecisive, yes, but also so articulate as to be almost glib, with nary a trace of the self-loathing, confusion, and desperation that mark Benjamin's search for meaning. Kelley is slim, tan, sexy, and perfectly coiffed, but her Mrs. Robinson (given a first name here, one of Johnson's many missteps) is missing the cool cynicism, commanding presence, and spiteful nature that define the character. Without mirroring Katharine Ross, Andrea Dennison Laufer, as Elaine, is pleasingly sturdy, forthright, and sincere. Skip Blas and Martha Duncan capture the sweetness, glowing pride, and thick cluelessness of Benjamin's parents. Blas in particular is nuanced, his Mr. Braddock capable of being an empathetic presence at one extreme, a red-faced martinet at the other. Better still is Tom Juarez's Mr. Robinson. At first an affable gentleman with touches of financial success and country-club elegance, his metamorphosis into bitterness and murderous, barely bottled-up rage is compelling and utterly credible.
The most blatant flaw of Johnson's script and this production is an almost complete absence of the sharp, satirical, knowing, often mocking view so integral to the adaptation's sources.
Presented by and at Long Beach Playhouse, 5021 E. Anaheim St., Long Beach. March 2–30. (562) 494-1014 or www.lbplayhouse.org.
Critic's Score: C+