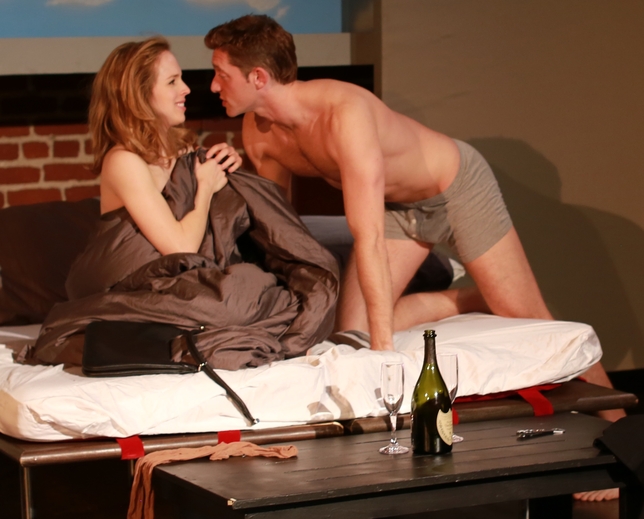 Jemma Kennedy's "The Grand Irrationality," having its world premiere at the Lost Studio, offers a few amusing one-liners. The stiff script, though, is several drafts short of being stage ready.
When Guy, an advertiser, meets Nina, a product developer for a women's soft drink, he is so confident in his marketing pitch that he wins Nina as a client and a bedfellow. However, saddled with an invalid father and a depressed post-partum sister at home, Guy finds it hard to have an office fling. Vivienne, a pretty new acquaintance seeking pro bono advertising for her women's charity, further complicates matters for him.
Kennedy attempts to balance several ideas in her play, sprinkling astrology in among themes of family and identity. Another theme is womanhood. Guy and Nina, marketing to women, repeatedly debate what their customers want, Rose struggles with motherhood, and Vivienne works for women's rights. Still, "The Grand Irrationality" falls into some sexist traps. It has a male protagonist, gratuitous female nudity, and female characters built on stereotypes. These include Nina, the type-A object of office romance who turns jealous and hysterical when Guy's eye wanders; Rose, the sweatpants-wearing mom who cringes about sex and believes being a good mother requires baking; and dream girl Vivienne, who inadvertently seduces every male in her path with her exotic, carefree ways.
On top of its problematic content, Kennedy's play presents technical challenges for the director and actors. In each lengthy scene the characters just sit and talk—at a restaurant, in an office, on a park bench, etc. Director John Pleshette's falls victim to this structure, staging his actors to sit still during long, repetitive conversations, and the show's pacing is glacial as a result.
Some good performances come across nonetheless. Gregory Marcel's Guy is a likable, awkward English bloke. Peter Elbling endears Murray, Guy's ne'er-do-well father, to the audience with bumbling charm. Mina Badie is noteworthy as Rose. The script requires the character to sob over her baby's stroller for the first half of the show, but Badie handles the challenge convincingly.
Less successful are Kristen Kollender, whose performance as Nina suffers when she anticipates awkward moments; Bess Meyer, whose Vivienne is encumbered by the character's French accent; and James Donovan, who fails to give Alex, Guy's boss, the machismo that the script implies.
Sound designer Joseph "Sloe" Slawinski provides well-chosen music for the show's many scene changes as well as realistic renditions of a screaming baby, ringing phones, and the hubbub in an Ethiopian restaurant. Esther Rydell's costumes also provide great attention to detail.
Kennedy's characters may talk about big ideas and make many sales pitches, but it's unlikely that audiences will be sold on "The Grand Irrationality."
Presented by and at the Lost Studio, 130 S. La Brea Ave. Jan. 11–March 3. (323) 960-4443 or www.plays411.com.
Critic's Score: C-