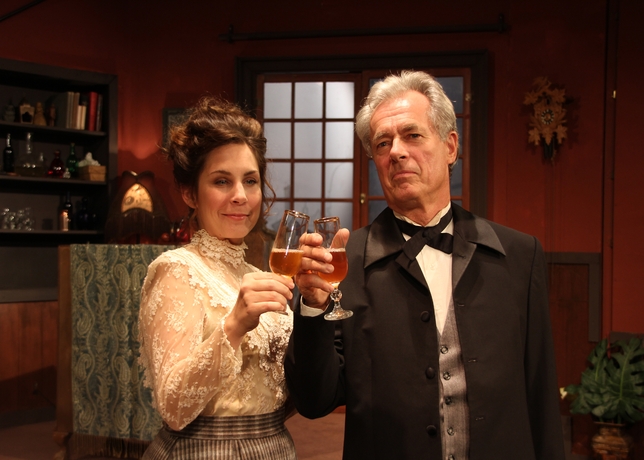 Between the big and small screens, there are a whole lot of Sherlock Holmes projects going on right now. Busting loose the canon is in fashion, and a whole lot of liberties are being taken with reinterpreting Sir Arthur Conan Doyle's brilliant and complicated detective, as well as his sidekick, Dr. Watson. Hate it or love it,Baker Streetis back big time. So it's not unexpected to see Charles Marowitz's comedy "Sherlock's Last Case" hitting the rounds again. It premiered in L.A. in 1984 before getting a short Broadway run with Frank Langella in 1987; since then it's had several productions across the country and in the L.A. area. But while this clever spoof has some fabulously over-the-top twists and turns, it's a wobbly vehicle. And in its current incarnation, the play simply doesn't have the kind of star power it needs to succeed.
At first Marowitz's take on the familiar characters seems pretty straightforward. The show opens in Holmes' flat in 1896, and we see the great detective (Chris Winfield) behind a London newspaper, while his faithful associate Dr. Watson (Bert Emmett) pours tea. (Winfield also designed the set.) But it doesn't take us long to notice that this Sherlock's severe, dismissive manner is more than just the behavior of an eccentric. He's pretty much an arrogant bastard who abuses all around him. Of course, it helps that everyone's pretty much a complete idiot, including loyal housekeeper Mrs. Hudson (Hersha Parady) and Inspector Lestrade (Patrick Burke). Everyone, that is, except Liza (Allison King), who shows up claiming to be the daughter of Professor Moriarty, Holmes' longtime nemesis, whom he recently not-so-accidentally killed.
Under the direction of Larry Eisenberg, co–artistic director of the Group Rep with Winfield, it takes a while for the playing style of the actors to get synchronized with the intentionally affected dialogue. So much of the intended humor is lost, particularly at the beginning. The pleasant Winfield has a difficult time capturing the complexity of this more abrasive Holmes, and initially Emmett's Dr. Watson is rather bland. It's not until the arrival of King's sharply portrayed Liza that we really begin to appreciate the laugh-out-loud nature of some of Marowitz's wonderfully outrageous and macabre descriptions of romances, tragic deaths, and past crimes solved.
As the ridiculous plot progresses and unbelievable layers of subterfuge are uncovered, Emmett's Watson rises to the task at hand. Although set changes are murderously slow, Eisenberg's broad strokes pay off in some enjoyable comic bits, and the supporting characters each have their moments. However, the challenges of the difficult material prevent Group Rep from solving "Sherlock's Last Case."
Presented by the Group Rep at the Lonny Chapman Theatre, 10900 Burbank Blvd., North Hollywood. Nov. 30–Jan. 20. (866) 811-4111, (818) 763-5990, or www.thegrouprep.com.
Critic's Score: C-