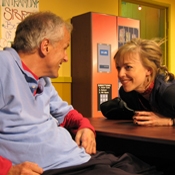 Mike Ervin's daring, lighthearted drama, in its West Coast premiere, realistically portrays people with disabilities, showing them with positive and negative traits without passing judgment. Though co-star Danny Murphy is too old for the part, his earnest portrayal, bolstered by Tara Samuel's pleasant female lead and Sara Botsford's clever, spirited direction, makes this two-hour production enjoyable and infuses it with a couple of unforgettable moments.
The title refers to a college paper that two disabled students must write to pass the physical education class requirement. The 22-year-old Lou (Samuel), who has epilepsy, is paired with 32-year-old Chuck (52-year-old Murphy), a quadriplegic who chose bowling as the paper's topic because as a child he was put into a special program called Bowling Buddies, which he believes degraded disabled youth. Chuck's dorm mate is Cornelius (Lynn Manning), a deaf and blind student with a penchant for gambling and romancing. A cheerleading squad makes set changes as though they are routines.
Ervin's simple romance also deals with different ways those with disabilities cope with a world that isn't built for them. Lou ignores her issues, and Chuck considers his life, even being in a wheelchair, a miracle. The funniest moments involve Cornelius; because he can neither hear nor see, he causes several absurd exchanges. But by far the most moving and fearless moment concerns Lou's desire to photograph Chuck in the nude.
Murphy's emotional range is a bit limited, but his honesty makes Chuck a compelling character, and his snappy delivery boosts many of the jokes. Samuel is energetic, and her purposeful overemphasizing of the more dramatic moments fits the part of Lou, who has a tendency to overreact. Manning, a blind actor, provides biting humor for a conmanlike persona. Botsford maintains a quick pace, and the use of the cheerleaders makes the transitions almost as interesting as the play.
Presented by Blue Zone Productions in association with Open at the Top at the NoHo Arts Center,
11136 Magnolia Blvd., North Hollywood.
Fri.-Sat. 8 p.m., Sun. 3 p.m. Mar. 21-Apr. 27.
(818) 508-7101, ext. 211.