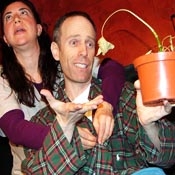 In playwright Barbara Wiechmann's turgid drama, a young mother, Agnes (Lisa Clifton), believes she sees a vision of the Virgin Mary in her kitchen. Believing that the Virgin appeared to her because of her suffering, Agnes tries to convince her small town's parish priest (Scott McKinley) about the miracle, but he is understandably incredulous.
However, many of Agnes' friends and neighbors are nowhere near as skeptical as the priest is, and soon they start seeing visions. At the same time, the folks who aren't lucky enough to see the visions become understandably agitated and question the others' faith and sanity. This leads to a variety of meditations on the nature of miracles and the question of whether prayer is merely our "wish list" letter to God.
When the townsfolk are ultimately drawn to a spot outside a local gas station, where the vision has told Agnes that she will appear next, there's an unexpected surprise. Sadly, this surprise doesn't involve a cameo appearance by Charo or Dolly Parton as the Virgin Mary. That sort of narrative ingenuity is entirely missing in this ultra-plodding and bloated drama.
Wiechmann's profoundly humorless writing often feels like an attempt to cross Under Milk Wood with the 1990s religious movie The Rapture, albeit with incredibly inert plotting and flat dialogue. Much of the play's mysticism will seem impenetrable and outlandish to a casually nonreligious viewer; but that's not as much of a problem as is the total lack of a strong, dynamic story line, which substitutes bumper sticker–like philosophical banalities for engaging argument.
Director Jerry Kernion's staging boasts a few innovative twists: Using chalk purloined from an onstage Holy Water font (or is it a birdbath?), the performers draw outlines of each set at the start of each scene. Yet it's ultimately hard to keep track of the bewildering assortment of characters, who are portrayed by the same several actors, sometimes changing their costumes only slightly in different scenes.
Presented by and at Theatre of NOTE,
1517 N. Cahuenga Blvd., Hollywood.
Nov. 7–Dec. 14. Fri.–Sat., 8 p.m.; Sun., 7 p.m.