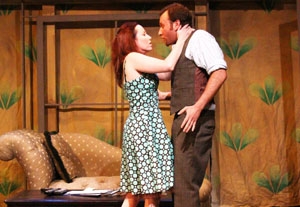 David Hilder blends romantic comedy with existential overtones to pose life's bigger questions, and the result is an uneven, though mostly enjoyable, offering. Richard Tatum's lively direction overcomes some of the script's unnecessary repetition, but some parts of the first hour are frustrating as it becomes clear the impending act break is predicated on a major twist.
First there's the setup. Francesca (Tracy Eliott), who directly addresses the audience, is a snarky, foul-mouthed pessimist with a dead-end data-processing job given to her by her Uncle Victor (Warren Davis). Life gets worse—and then better—after meeting Anton (Mikhail Blokh), an out-of-place European peasant type who is joyous and mysterious. Francesca explains she will not be falling for Anton and that she is fine in a strictly physical relationship with the uncomplicated Robert (Jon Gale). But something unusual about Anton intrigues her. And that "unusual" thing drives the second act.
The play's tone rests on Eliott's performance, and though she nails the unpleasant personality traits of Francesca, a lack of charm in the early scenes makes her unsympathetic. Her comedic delivery comes on too strong at times, but she is aided by Blokh's carefree portrayal and enjoyably cartoonish Russian-esque accent. Most of the other laughs are attributable to Daniel Montgomery, playing Francesca's attitude-filled neighbor Nate.
Tatum rarely slows the action, and the transitions between scenes are seamless, so the script's weaker points are less noticeable and the fun aspects are highlighted.
Presented by Absolute Theatre Company at El Centro Theatre, 804 N. El Centro, L.A. July 22–Aug. 28. Fri.–Sat., 8 p.m.; Sun. 7 p.m. (323) 230-7261. www.absolutetheatrela.org.