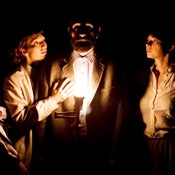 As an ardent supporter and admirer of experimental theatre, I am willing to eschew narrative, suffer horrific imagery, and endure any number of assaults on the senses to serve a worthy theatrical objective. But ARTEL, a theatre collective of husband-and-wife team Bryan Brown and Olga Petrakova, along with Keirin Brown and Ilana Gustafson Turner, took the persecution of Russian playwright-novelist Mikhail Bulgakov (The Master and Margarita) and rendered it devoid of context and visceral power. The first problem: There is no credited director, and this group, winnowed down from a previous 12, has fashioned a piece that seems to have grown out of movement improvisations rather than a more coherent narrative approach. We neither get enough of the history of Bulgakov (Bryan Brown) and his three wives nor the specifics of his ostracization by Soviet apparatchiks and society.
As for the metaphorical staging, what can one say after an actor wearing a pig mask jumps on the back of Bulgakov and shoves papers in Bulgakov's mouth to the tune of what sounds like a Bob Dylan song? The symbology of taking books and ripping pages out of them or dipping one in red paint is not the most startling or innovative of choices. Add to this agonizing, slow-motion movement that at times tests the will of the audience, couple it with not a single audio cue for 50 minutes, and you begin to see that the good intentions of these theatrical pioneers are not sufficient, even for a performance that runs less than 90 minutes, no intermission.
Characters write with chalk on the walls, but the audience is not in a position to read the writing. Single lines of dialogue are apparently expected to sum up major shifts in Bulgakov's life. Brown holds a book while reading passages of the Russian writer, in essence depriving us of important eye contact. It is not that the performers are untalented. But they need a guiding hand to help shape their work and deny them their physically driven indulgences.
Presented by ARTEL at the Art/Works Theatre,
6569 Santa Monica Blvd., L.A.
Fri.-Sat. 8 p.m. May 16-Jun. 14.
(800) 838-3006. www.arteltheatre.org.