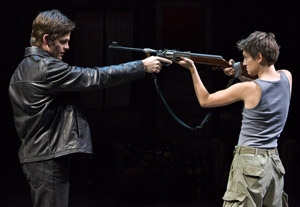 Playwright Martin McDonagh taps into the psychological legacy of Ireland's long history of bloody revolution in this disturbing farce that takes themes of violence to absurdist proportions—brilliantly conveyed by director Wilson Milam and his design team in graphically gruesome detail. In its L.A. debut, this subversive piece about a Galway terrorist group gone amuck won't be everyone's cup of Guignol. Yet, those buying into its cockeyed glimpse at warped human relationships and the unstoppable nature of violence will find chilling food for thought between the raucous laughs.
Padraic (Chris Pine) is a sociopathic killer in a splinter terrorist organization, whose only true emotional soft spot seems to be for his black cat, Wee Thomas, left in the care of his widowed father, Donny (Seán G. Griffin). As the play opens, Donny and a neighboring youth, Davey (Coby Getzug), examine the cat's limp remains. Donny's suspicions that Davey deliberately ran over the cat become moot as the two ponder what Padraic will do to them when he finds out. Padraic is busy torturing a captive (Brett Ryback) when Donny's call comes in informing him the cat is "sick." The distraught Padraic rushes home, unaware that thugs from his organization (Andrew Connolly, Kevin Kearns, Ian Alda) believe Padraic plans to splinter off from their group and are tracking him down to assassinate him. When Padraic meets Davey's tomboy sister (Zoe Perry), a wannabe terrorist, romantic sparks fly, and she accompanies him to the family cottage. A shocking series of brutal encounters leaves the stage splattered in gore, as the treacherous tale winds to a surprising conclusion.
Pine gives a bravura lead performance, projecting a compelling amorality. The disparity between Pine's leading-man looks and boyish charm juxtaposed to Padraic's venal actions underline the ironies of McDonagh's loopy morality tale. Getzug and Griffin are superb as the bungling fools hoping to avoid Padraic's wrath, while Ryback excels at darkly funny line readings. Perry offers a sublime turn as the tough teenager with surprises up her sleeve. The three actors playing the pursuing terrorists lend first-rate support.
Laura Fine Hawkes' gritty sets, Stephanie Kerley Schwartz's costumes, Brian Gale's masterful lighting, and Cricket S. Myers' sound design are exemplary. Ditto for Steve Rankin's fight direction, Waldo Warshaw's special effects, Matthew W. Mungle's special prosthetic effects, Matt McKenzie's original music, and Carla Meyer's dialect coaching.
Politics and pitch-black humor make strange bedfellows in McDonagh's enthrallingly inventive tragicomedy.
Presented by Center Theatre Group at the Mark Taper Forum, 135 N. Grand Ave., L.A.
July 11–Aug. 8. Tue.–Fri., 8 p.m.; Sat., 2:30 and 8 p.m.; Sun., 1 and 6:30 p.m.  (213) 628-2772. www.centertheatregroup.org.