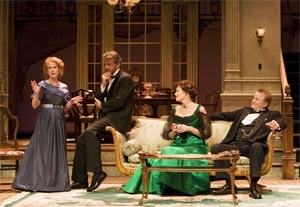 Lillian Hellman's consummately crafted 1939 drama can be viewed as a distinguished forerunner to latter-day portraits of fierce familial warfare, such as
The Lion in Winter
and
Dallas
. Boasting one of theater's most coveted villainess roles—ruthlessly manipulative Southern matron Regina—this gothic potboiler works best when its guilty-pleasure histrionics are given free rein to flourish. Director Dámaso Rodriguez's exquisite revival wisely allows the play's melodramatic juices to flow freely while resisting the temptation to force a contemporary spin on its social commentary, yielding an engrossing mix of cheap thrills and cerebral pleasures.
The play charts the toll that greed and male chauvinism take on a dysfunctional Alabama dynasty in 1900, following a struggle among Regina (Kelly McGillis) and her brothers Ben (Steve Vinovich) and Oscar (Marc Singer) to gain the upper hand in a lucrative business arrangement with a Yankee entrepreneur (Tom Schmid). The potential deal-breaker is the investment portion needed from Regina's estranged and gravely ill husband, Horace (Geoff Pierson). The three siblings' machinations to secure Horace's consent and to con each other out of a heftier share of the proceeds begin with attempts to force a marriage between Regina's daughter Alexandra (Rachel Sondag) and Oscar's ne'er-do-well son Leo (Shawn Lee). The tactics soon escalate to thievery, blackmail, and something even worse.
McGillis offers a beautifully modulated portrayal, suitably subdued in the early scenes, then forcefully revealing the suppressed fury and desperation of a woman fighting to earn her fair shake in a male-favored culture. Excellent performances are given by Vinovich as the oily and despicable Ben and Singer as the cowardly, wife-bashing Oscar. Oscar's spouse, Birdie, a downtrodden alcoholic, is poignantly played by Julia Duffy as a wounded creature victimized by vultures. The superb Pierson elicits strong empathy as the physically weak but spiritually feisty Horace, and Sondag does creditable work as another beacon of decency in the toxic household. Lee is amusingly doltish as the self-satisfied loser Leo. Yvette Cason and Cleavant Derricks bring solid comic relief as the outspoken African-American servants. An attractive production design adds the crowning touch to Rodriguez's regal revisit to a treasured 20th-century classic.
Presented by and at the Pasadena Playhouse, 39 S. El Molino Ave., Pasadena. May 29–June 28. Tue.–Fri., 8 p.m.; Sat., 4 and 8 p.m.; Sun., 2 and 7 p.m. (No 8 p.m. performance June 3 and 10. Additional performance 2 p.m. June 10.) (626) 356-7529
.
www.pasadenaplayhouse.org
.