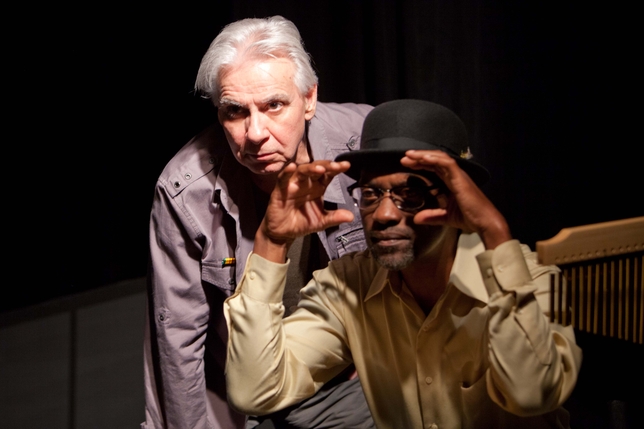 The transformative nature of art keeps many plying their craft despite ridiculous odds, a condition exemplified by the debut of John DiFusco's near-solo show "The Long Way Home: Reflections on the 'Tracers' Journey." Nowhere is the hunger to share the human experience more heightened than from the experiences of our country's oft-ignored and misunderstood veterans. DiFusco returned from Vietnam with the same horrendous emotional scars as so many others, but he fortunately found a healthy outlet: constructing the play "Tracers" from scratch in a workshop germinated at the Odyssey Theatre Ensemble
After studying acting on the G.I. bill and guided by the wisdom preached in classes led by Odyssey's resident guru Ron Sossi, DiFusco was inspired to bring together a group of actors who were also veterans in an effort to rebuild their lives through sharing their individual stories. The idea was to manufacture a cathartic experience for the vets, all still dealing with the horrors of an unnecessary and untidy period in American history. Chronicling their journey onstage, first from their days as "grunts" trudging off to boot camp to living through the atrocities of battle, was something DiFusco saw as remedial, a collaboration of brothers trying to fight off "going inside ourselves." He had no clue that his brainstorm would go on to play nine sold-out months at the Odyssey before being reinvented by Gary Sinise at Steppenwolf in Chicago. "Tracers," with writing credit given to DiFusco and his original cast, went on to win a Drama Desk Award when it was brought to New York by Joseph Papp, eventually becoming one of 10 plays published in "The Best Plays of 1985-86" and finding an international audience. It is still performed worldwide to this day, including a current production in the works in Albania.
"The Long Way Home," directed by John Perrin Flynn and performed by DiFusco, chronicles the magical and inspirational journey with the invaluable aid of singer-percussionist Al. Keith, who adds corresponding post-Vietnam tunes by Jefferson Airplane, Santana, and the Rolling Stones to accompany the evolving narrative. DiFusco recalls that his stimulus for "Tracers" germinated from meeting a wasted fellow vet at a party and realizing that every shattered returnee had his "own Vietnam" to work out. The guy's bitterness at feeling that he had been "duped into something" caused DiFusco so much pain that he drove his car over a 50-foot embankment—and then started to write.
DiFusco credits a key word in Sossi's workshop for the inspiration that changed his life forever: "risk." DiFusco has never stopped taking those risks, something apparent as he gracefully yet fiercely morphs back to the days of his troubled youth and successfully recalls the epiphany of understanding that "theater can be more than entertaining; it can be healing." With his heartfelt and dynamic performance recalling the incredible voyage of "Tracers," he once again proves himself able to share the purification of creation, the embodiment of Shelley's belief that "poets are the unacknowledged legislators of the world."
Presented by the U.S. Veterans' Artists Alliance and Rogue Machine Theatre at USVAA Theater, AMVETS Post II Building, 10858 Culver Blvd., Culver City. Nov. 3–24. (855) 585-5185 or www.roguemachinetheatre.com.
Critic's Score: A