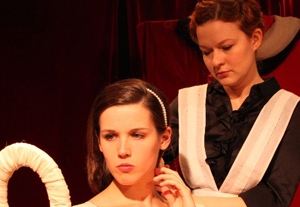 Historical context accents the mounting insanity witnessed in Jean Genet's second play, the French version of which premiered in 1947. Knowing that Genet based his three-hander on the Papin sisters—maids who murdered their employer and her daughter—leaves the viewer aware that the role-playing by the sisters is their way of transforming violent fantasies into reality. In that context Nicole Erb and Rachel Kanouse take Genet's 90-minute one-act to even creepier depths. Director Armina LaManna's deliberate pacing helps create an overall sense of unease, as though the actors have lost themselves in the characters, who, in turn, have lost themselves inside a twisted, waking nightmare.
Using Bernard Frechtman's original English translation, this production, set in 1930s France, takes place in real time, with the exception of a slight pause before the final scene. Claire and Solange (Erb and Kanouse) are sisters who care for their Madam (Meagan English) and her husband, whom the maids have helped get arrested by sending anonymous letters to police accusing him of crimes. The sisters spend their alone time taking turns dressing like Madam, berating the other, and then allowing the put-upon maid the chance to turn on Madam. Their play-acting appears to be a prelude to actual murder, but the sisters remain hesitant. Each uses emotional blackmail to goad the other to the breaking point, and Madam's latest round of abuse brings them even closer to the edge.
Erb and Kanouse fully inhabit the challenging roles of Claire and Solange. Their wild mood swings, including fits of rage, near melodrama without losing their impact. And the actors' physicality adds a sense of danger to the performance, as though one of them may wind up injured. English's portrayal as the flighty, uncaring Madam gives weight to the sisters' anger, though there's no denying that the maids' isolation has left them psychologically unbalanced.
Phil Kong's shadowy lighting design, particularly in the final scene, helps LaManna drive the story to its unresolved, unsettling conclusion.
Presented by and at the Eclectic Company Theatre, 5312 Laurel Canyon Blvd., Valley Village. May 29–June 27. Fri.–Sat., 8 p.m.; Sun., 7 p.m. (Also Thu., 8 p.m., June 17–24.) (818) 508-3003. www.eclecticcompanytheatre.org.