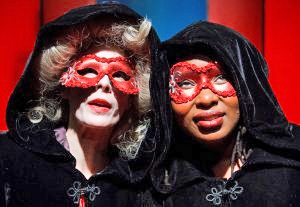 When this comedy by Pierre Augustin Caron de Beaumarchais opened at the Comedie-Francais in 1784, it was an enormous success, but it was regarded as dangerously subversive—because of its critical satire aimed at decadent aristocrats, and because it depicted wily servants outwitting their masters. Some have even suggested that it helped to spark the French Revolution, which erupted five years later. Now, the passage of time has dampened its political charge, and what's left is essentially a comedy of sexual intrigue.
Figaro (Troy Dunn) and his fiancée, Suzanne (Janae Burris), are preparing for their wedding, but they must thwart the amorous plans of their employer, Count Almaviva (David E. Frank), who's hell-bent on seducing Suzanne. Meanwhile, the Countess (Cynthia Mance), ignored by her erring husband, is conducting a not-entirely-innocent flirtation with adolescent pageboy Cherubin (Amelia Rose Blaire). And wily Marcelline (DonnaAnn Ward) is threatening to sue Figaro for breach of promise as means of entrapping him in marriage. Disguises, confusions, and improbable mistaken identities abound.
Dunn is an insouciant Figaro, basking in his own cleverness, while Burris' Suzanne is more straightforward and direct. Frank's Count is an appropriately slimy seducer, eager to bring back the droit de seigneur, and Mance's Countess is flighty but game. Blaire captures Cherubin's gawky adolescent ardor, and DonnaAnn Ward nimbly navigates the transitions in a role that requires her to be a termagant in early scenes and a doting mother later.
This new translation, by director Frederique Michel and Charles Duncombe, is serviceable and fairly traditional. It is also a tad overlong, and a bit of discreet editing would not be amiss. Michel has pitched her production as broad farce, with sometimes-obtrusive stylized movement, which can be distracting. Playing artificial comedy artificially seems like overkill.
Presented by and at City Garage, 1340-1/2 Fourth St. Alley, Santa Monica. April 16–May 30. Fri.–Sat., 8 p.m.; Sun., 5:30 p.m. (310) 319-9939.