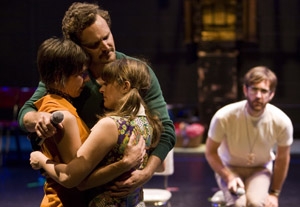 Playwright Kirk Lynn and director Shawn Sides have fashioned a bracingly inventive paean to artistic creativity and the far-reaching influences of those who teach it. Though the play might not appeal to theatergoers who demand conventional dramaturgy, those willing to go along for the ride will observe a funny and touching journey of discovery for a fictional avant-garde acting troupe. Adventurous theater is very familiar to the Austin, Texas-based Rude Mechs company, which created this subtly profound work.
The passion actors have for their craft is evident in five eccentric yet endearing characters, and in the actors who play them (Hannah Kenah, Lana Lesley, E. Jason Liebrecht, Thomas Graves, and Sides). There's a hint of enigmatic Samuel Beckett and a tinge of fourth-wall-shattering Luigi Pirandello in the mix. As we enter the auditorium, the actors are already onstage, milling around amid furniture pieces and props. When the house lights go down, a conversation commences, making it clear they're in a rehearsal. Suddenly, the cordial but businesslike Thomas (Graves) steps out of the action to invite the audience to participate in an exercise, which is best kept a surprise. Before long, we discover that the fictional acting troupe is carrying on valiantly, following their sudden abandonment by revered director and guru Stella Burden, who fled to South America. Burden's bolting occurred midway through a planned nine-year rehearsal period of her revisionist version of Tennessee Williams' "A Streetcar Named Desire," which excludes its four main characters. The actors diligently plunge forward, striving mightily to follow Burden's concepts.
As the troupe indulges in bizarre exercises that Burden taught them from her technique (called the Approach), we get a clever send-up of traditional Method acting. Such exercises as Crying Practice and Kissing Practice are uproariously demonstrated. Alternating with these zany episodes are the rehearsals for the daring "Streetcar" reinvention. Though the idea of such an unorthodox take on a Williams masterwork sounds intriguing, the most effective portions in Lynn's script are its fanciful comic interludes and the climactic moments, in which the valiant performers begin to question their devotion to the project, while not losing sight of their artistic integrity. Thanks to the marvelously balanced ensemble and Lynn's crisp and imaginative staging, the play's themes are resonantly conveyed. This "Gun" scores a bull's-eye.
Presented by Center Theatre Group at the Kirk Douglas Theatre, 9820 Washington Blvd., Culver City. June 15–26. Wed.–Fri., 8 p.m.; Sat., 4 & 8 p.m.; Sun., 6:30 p.m. (Exception: Fri., June 24, 10 p.m.) (213) 628-2772. www.centertheatregroup.org.