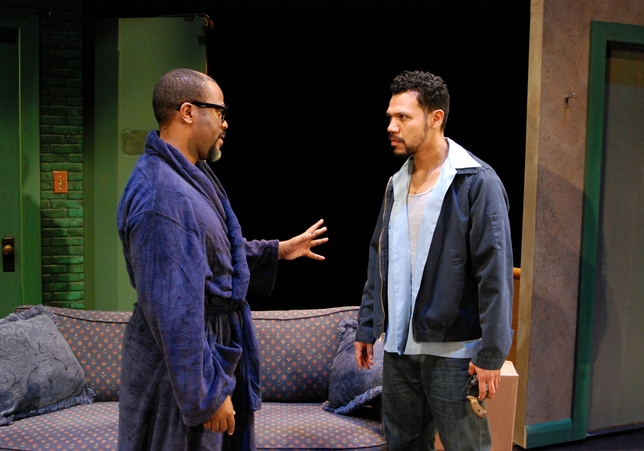 If it's possible to write a play about addiction and attempted recovery that's both darkly earnest and ruthlessly funny, then Stephen Adly Guirgis has done exactly that. His incisive 2011 Broadway hit "The Motherfucker With the Hat," about drugs and drinking, love and infidelity, pulls no punches in depicting characters who are messed up of their own volition. The result generates humor born of dead-on candor.
Jackie, a Puerto Rican New Yorker, is on parole and has been attending AA meetings to turn his miserable, alcohol-sodden life around. It's a tough task, because Veronica, the love of his life since eighth grade, is a drug addict with no desire to stop using. Jackie's world is rocked when he realizes that Veronica has another lover on the side. The revelation that "the motherfucker with the hat" is Ralph, Jackie's AA sponsor and parole officer, is only the first indication of betrayal and the kind of pain engendered by utter selfishness and self-absorption. That Guirgis has us laughing for much of the time attests to his skill at working with subjects and characters that lesser playwrights would likely reduce to clichés.
Michael John Garcés' staging at South Coast Repertory and the carefully modulated ensemble cast use the text as a jumping-off point, giving the events of the story an improvisatory feel and an earthy physicality. Guirgis' primary themes are how couples interact, privately and publicly, and how substance abuse spurs dishonesty and can viciously taint fidelity. It's all fueled by salty street language that's a thoroughly authentic representation of urban New York.
Most affecting and impressive is the complexity of all five characters and their relationships. No one is exactly what he or she seems, and Garcés' cast deserves whatever superlatives you care to apply. Tony Sancho's Jackie is a morass of anger, hurt, suspicion, cynicism, and cruelty, a touching mixture of childlike trust and naiveté, levelheaded morality, and often-violent spontaneity. Ralph is obviously convinced that he's the smartest guy in the room and able to talk his way out of any situation. With a clear, loud, high-pitched voice evocative of Samuel L. Jackson, Larry Bates aptly portrays a forceful live wire who uses his own status as a recovering alcoholic to excuse the most amoral behavior. Even after admitting that he's a son of a bitch dogged by serious trust issues, Ralph still has the upper hand in dealing with Jackie.
Elisa Bocanegra's Veronica is a volatile, slovenly, almost violently hedonistic free spirit able to hold her own whether dealing with Jackie or with Ralph. Her bravado makes her seem cold-hearted, but it's a façade, her much-needed emotional armor. Christian Barillas captures his every scene as Jackie's proud, strong-willed, capable, delicately effeminate cousin Julio. Cristina Frias shows the desperation and despair of Ralph's wife, Victoria, the collateral damage of his affair with Veronica. All five characters—even the relatively together Julio—are prisoners of pain. There are no happy endings here, not for anyone, and not for any time soon.
Presented by and at South Coast Repertory, 655 Town Center Dr., Costa Mesa. Jan. 11–27. (714) 708-5555 or www.scr.org. Casting by Joanne DeNaut.
Critic's Score: A