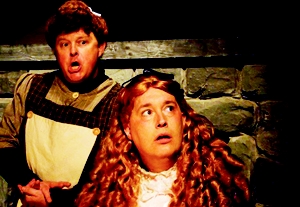 The two actors wander around pre-show, checking the set. Or so they'd have us believe. They're letting us know what they look like before they get into costumes and character. Oh, do they get into character. Sitting in the front row (uncharacteristically, this reviewer recommends it for this production), we're at times inches from the actors, and still we forget we're watching actors and not the personae they're creating.
And yet, half those portrayals are cross-gendered, with dozens of costume changes quick as a blink, in this signature Charles Ludlam comedy. Kevin Remington plays Lord Edgar, wearing a gold smoking jacket, then becomes housekeeper Jane, in a topknot wig and layers of petticoats and dress and apron. Michael Lorre plays the swineherd Nicodemus, then transforms into Lady Enid, wearing a Lanz-style nightie and shabby robe, topped by a massive wig of golden curls. A scene in an Egyptian tomb brings its own sartorial jaw-droppers. In the face of the script's humor—outlandish, "in," punny, and imitative—the actors remain completely truthful to their characters, giving them unexpected and very welcome details.
Lorre, who also directs this "deconstructed production" with minimum props but maximum laughs, designed the set, which with simplicity and humor consists of chalk lines that create sofa and chaise, bookcase, hat rack, sconce, and sarcophagus (painting credited to Jim J. Bullock). Remington designed the astonishing costumes; the greatest mystery here is how the actors get into and out of them so quickly and silently.
As for the plot, it's something to do with a Victorian home, vampires, werewolves, jealousy, heartbreak, that trip to Egypt, and the demise of Irma Vep—various situations and locales that succumb to a brief second-act slump. In no way will any of this get in the way of fully enjoying this delectable, often-hilarious pastiche that provides a vehicle for awe-inspiring talents.
Presented by the Celebration Theatre and Deconstructed Productions with and at Space916, 916 N. Formosa Ave., West Hollywood. July 23–Sept. 4. Fri.–Sat., 8 p.m.; Sun., 2 p.m. www.tinyurl.com/IrmaVep2010.