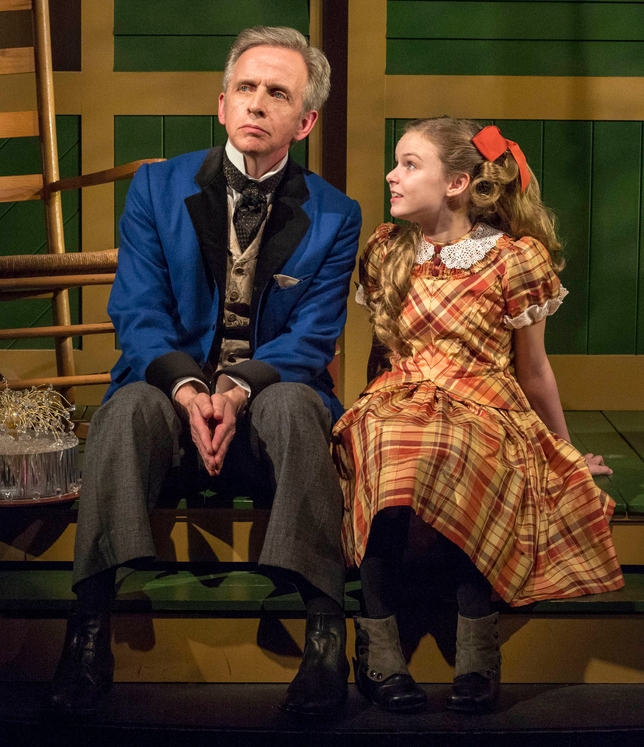 Works about the perils of technology may come and go, but if there's any justice in this world or cyberspace, Jennifer Haley's "The Nether" will enjoy a lengthy shelf life. Part detective story, part ethical conundrum, and—oddly—part love story, the play's future looks rosy indeed if companies give it the kind of treatment being provided by Center Theatre Group, director Neel Keller, and a superb cast in its world premiere at the Kirk Douglas Theatre.
We think we know where the show is headed when Morris, an all-business agent (Jeanne Syquia), starts harassing a 50-something man named Sims (Robert Joy) for information about servers and access codes. We are, however, mistaken. The time is the not-so-distant future, where virtual reality and online living have evolved to such an enticing—or is it perilous?—degree that people want to "cross over" and live forever in alternate worlds such as the one created by Sims. His realm, called the Hideaway, is a cozy Victorian estate populated by preadolescent girls where visitors can commit morally unspeakable acts and suffer no consequences because, as Sims points out, they are hurting no one. Agent Morris disagrees. She wants to take Sims and the Hideaway down and has sent in another agent, Woodnut (Adam Haas Hunter), to collect the information that has led to his capture. Morris is simultaneously interrogating Sims and a 65-year-old former science teacher named Doyle (Dakin Matthews), who has spent time in the Hideaway and might have some vital information.
As the scene changes, Adrian W. Jones' marvel of a set rotates the cramped gray interrogation room away and brings in a two-level Victorian dollhouse, complete with parlor and porch. The top level belongs to Iris (Brighid Fleming), the favorite of Sims' girls, a living Dresden doll equally versed in childhood games such as jacks and sexual deviation. Digitized fabrication though she may be, Iris is—in Fleming's delicate rendering—a character every bit deserving of pity, worship, and love.
Haley's debate over issues of privacy, fantasy, and propriety is waged largely through the personas of Doyle and Sims, both of whom are making the case for the Hideaway. Sims, whom we also see as his pedophilic alter ego, Papa, in the online world, may be an arrogant rotter, but Joy gives him charisma and a real sense of where the damage has come from. Matthews, arguably L.A.'s finest classical actor, elevates everything he touches. His Doyle, particularly in the later scenes after twists are revealed, is as cerebral as he is heartbreaking. Syquia and Hunter, saddled though they are with somewhat less interesting parts, nonetheless help advance the plot and cloud the moral question.
Working with a complex and exciting property, director Keller delivers a tale that entertains while tickling the brain. Remember the name Jennifer Haley. Someone should get this talented playwright's server location.
Presented by Center Theatre Group at the Kirk Douglas Theatre, 9820 Washington Blvd.,Culver City. March 24–April 14. (213) 628-2772 or www.centertheatregroup.org. Casting by Erika Sellin.
Critic's Score: A