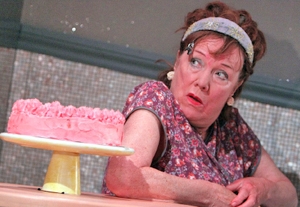 People naturally talk, just for the act of it, repeats elder sister Breda throughout Enda Walsh's West Coast premiere of his intensely poetic language play. Perhaps that talking will finally enable the three sisters to break out of their sad, strange-yet-familiar patterns. Or perhaps we humans can talk ourselves out of being brave.
It quickly becomes obvious that Breda's youngest sister, Ada, has heard all the stories before, particularly when they are joined by eldest sister Clara. The three reenact an event of their long-ago youth: an unwitting competition between the two elder sisters that changed, and wasted, their lives. Their continual visitor is Patsy, the ungainly but reliable fishmonger.
What do we do, given the opportunity to break out of our shells? How many of us "get inside where it's safe"? The sisters go over and over the stories at the root of their lonely, self-isolated lives, joined by Patsy—when he is invited. The only comfort is in repeating words, each person reliving his or her pain.
Beautiful, right? Unfortunately here, all this was gleaned from reading the script after the show. In no way should anyone be deterred from seeing this production, but the Irish accents and speedy deliveries certainly draw a light curtain between us and maximum appreciation and enjoyment of the work.
What instruments these actors have, particularly Rosaleen Linehan as Breda, her voice mellow, flexible, and clear. And what a powerful entrance Linehan makes, in darkness but slightly visible to the audience, revealing a fully engaged character barreling out from the wings. Ruth McCabe as Clara softly creates a shadow self at 18, not overtly girlish, so that the pathos of her compulsive reminiscences pierces the heart. As "baby" sister Ada, Catherine Walsh evidences the bowed presence of someone relied upon to hold the family together. Mikel Murfi as Patsy creates a simultaneously manly and boyish figure, venturing into the den of these lionesses.
As if these were not gifts enough from the Druid Ireland company (further touring the U.S. when and if we're lucky), Sabine Dargent offers a symbolic set of confinement and release, plus thoughtful costumes of well-worn familiarity and juvenile gaudiness, and Sineád McKenna's lighting spans dank interior, ethereal northern sunlight, and Hollywood cinema magic.
Presented by UCLA Live at the Freud Playhouse, 245 Charles E. Young Drive East, L.A. Dec. 2–6. Wed.–Sat., 8 p.m.; Sun., 7 p.m. (310) 825-2101. www.uclalive.org.