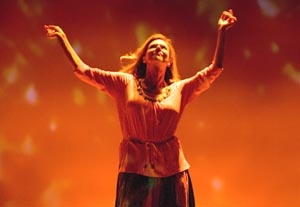 Though Charles Randolph-Wright's 2008 play centers on a frequently explored theme—the crippling effects of death in the family on surviving members—the tragedy is softened by a bittersweet tone and the lyrical beauty of the story's ethereal underpinnings. The joyous music, physical beauty, and haunting mysticism of Brazil are juxtaposed to the family's oppressive existence in snow-drenched Massachusetts. Though the script is slightly less than the sum of its seductive parts, it's beautifully served here by Sheldon Epps' invigorating direction, sensitive and engaging performances, and gorgeously cinematic design elements.
When we first meet widowed Harriet (JoBeth Williams), as she arrives in Brazil, she appears to be in a celebratory mood, anticipating an exotic vacation. We learn that she capriciously made this trip from her New England home, much to the astonishment of her grown children: the controlling Jane (Monette Magrath) and the alcoholic Brian (Tyler Pierce). Harriet has ventured to a country she dreamed about since her youth, searching for emotional release following a calamitous incident: Her son Michael (played by Pierce, in flashbacks), gunned down several people at a daycare center before taking his own life. Guiding Harriet in her quest to come to terms with her puzzlement and grief over Michael's acts is Ria (Sybyl Walker), a buoyant yet mysterious young doctor. As Harriet stumbles across men performing a voodoo ritual on the Rio de Janeiro beach, the spirit of Michael briefly appears to her. She then becomes determined to attend a native religious ceremony, hoping to make additional contact with her dead son. Startling revelations surface before Harriet can release her chains of emotional entrapment.
A spellbinding ambience is captured, courtesy of Yael Pardess' lovely scenic design, dominated by Jason H. Thompson's wondrous projected film footage; Maggie Morgan's flavorsome costumes; Lap Chi Chu's superb lighting; and Bruno Louchouarn's remarkable sound design. The radiant Williams is alternately playful and poignant in the focal role. Pierce lends splendid comic relief as the cheeky Brian, and he's equally fine as the seemingly rational but deeply troubled sibling. Walker enchants us as the enigmatic tour guide. Lending first-rate support are Magrath as the determined daughter, and Maceo Oliver and Armando McClain in other roles. The script is perhaps less nuanced than one might expect, but this eloquent West Coast premiere staging soars on the wings of the play's quirky charms, evoking a surprisingly potent emotional uplift.
Presented by and at the Pasadena Playhouse, 39 S. El Molino Ave., Pasadena. Sept. 4-Oct. 4. Tue.-Fri., 8 p.m.; Sat., 4 and 8 p.m.; Sun., 2 and 7 p.m. (Dark Tue., 8 p.m. Sept. 8; Wed., 8 p.m. Sept. 16 and 23. Added matinee Wed., 2:30 p.m. Sept. 23.) (626) 356-7529. www.pasadenaplayhouse.org.