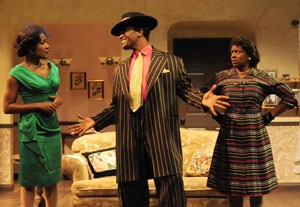 This play, set in Harlem in 1943, is as much about history as it is about the lives of two sisters in their 50s and the young man who comes to board with them. It references the discrimination that was faced by African-Americans who were fighting in the war but given few considerations in their daily lives.
Quilly McGrath (Karen Malina White) has recently come to live with her sister, Elizabeth Borny (Veralyn Jones), a spinster whose boarder, Husband Witherspoon (Ryan Vincent Anderson), is clearly going to be a problem for them at the outset. Elizabeth is described as an "old settler," a woman pushing 40 who is not married. She is wise and kind—traits that are seemingly lacking in Quilly, whose fretful complaints and cantankerous nature paint a portrait of an unhappy soul.
Husband has come to Harlem to look for his girlfriend, Lou Bessie (Tarina Pouncy), who has left South Carolina behind and renamed herself Charmaine, transforming herself into a "fancy piece" who only keeps Husband dangling after her because of an inheritance he has received from his mama's death. His guileless nature is no match for her.
John Henry Redwood's script is part soap opera and part social narrative. Quilly, the mouthpiece for Redwood's stories of social injustice, works for "her white woman" and is jealous of her sister's emerging romance with Husband, declaring that he is just looking for another mama.
All the actors acquit themselves very well, humanizing Redwood's characters beyond the somewhat static nature of the script. Director Caryn Desai's directorial choices get a slow start as actors face the audience and explicate the plot, but, by the second act, emotional issues make more dynamic the exchanges among the characters.
Kurt Boetcher's charming '40s set, Kim DeShazo's costumes, and Bill Georges' light and sound design enhance the feel of another time and place. Though the very nature of the story prepares the audience for the eventual unhappy ending, this glimpse into the past and the Harlem culture makes the production enjoyable and rewarding.
Presented by and at International City Theatre, Long Beach Performing Arts Center, 300 E. Ocean Blvd., Long Beach. June 1–26. Thu.–Sat., 8 p.m.; Sun., 2 p.m. (562) 436-4610. www.internationalcitytheatre.org.