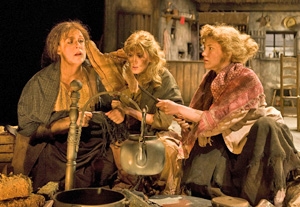 When this play was first produced in Dublin in 1907, it provoked riots and condemnations for playwright John Millington Synge. He prided himself on capturing the rich, pungent realities of Irish life and speech, but genteel audiences were infuriated by what they considered his defaming of Irish morals and coarsening of their language. But he soon gained recognition as a masterly portrayer of life in the Emerald Isle, and the play has proved enduringly popular.
It's set in a shabby pub in rural Ireland, presided over by the hard-drinking landlord, Michael James Flaherty (Apollo Dukakis), and his feisty daughter Pegeen Mike (Lindsay Gould). She's courted by the craven Shawn Keogh (Brian Hostenske) and plans to marry him, until mysterious stranger Christy Mahon (Michael A. Newcomer) turns up. When the villagers learn that Christy has murdered his father, he becomes an instant celebrity, suddenly attractive to every woman in sight. The predatory Widow Quinn (Jill Hill) takes a shine to him and becomes Pegeen's rival for his attention. He soon begins to think he really is the fine fellow they say he is—until his irascible father, Old Mahon (director Geoff Elliott), turns up, very much alive despite Christy's attack. Suddenly the lad is a mere felon, not a glamorous murderer.
Elliott directs his capable cast with zest and skill, in addition to contributing a hilarious tour de force performance as the elder Mahon. As Christy, Newcomer nimbly navigates the transition from timid stranger to swaggering local celebrity. Gould provides a spunky, energetic Pegeen, and Hill's Widow Quinn has charms of her own. Hostenske finds sheepish appeal in the cowardly Shawn, and there is admirable support from Dukakis, William Dennis Hunt, and Tim Venable. Soojin Lee's wonderfully tattered costumes provide flavor, and Stephen Gifford's handsome set is gorgeously detailed, down to the thatched roof, peat fire, and leaky roof.
Presented by and at A Noise Within, 234 S. Brand Blvd., Glendale. April 17–May 22. Variable schedule. (818) 240-0910, ext. 1. www.anoisewithin.org.