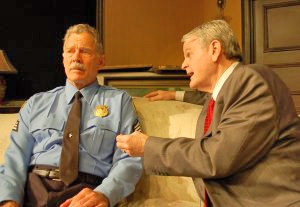 In the Arthur Miller canon, this play tends to be considered in the middle: a notch below his early masterpieces but above his later, mostly overlooked plays. And while the 1968 drama becomes repetitive at times, Miller's dissection of a family breakdown still resonates loudly. Director Stu Berg's pacing lacks needed variation, and at times the exchanges feel forced. But the four-person cast, in particular Marvin Kaplan, brings a sense of honesty to the relationships, overcoming the production's shaky moments.
Kaplan portrays the group's stranger, Gregory Solomon, an 89-year-old antiques dealer who has been called to buy an entire room of furniture belonging to police officer Victor Franz (Cal Bartlett); his wife, Esther (Dianne Travis); and Victor's successful surgeon brother, Walter (Don Moss). The brothers, now near 60, haven't spoken in 16 years, thanks to the feud set in motion by Franz leaving school to care for their father while Walter looked out for himself.
Berg's revival is more than two and a half hours long and could easily be several minutes shorter and have a greater emotional impact by pushing the pace of the heated exchanges and eliminating the unnecessary silent moments. The play contains several funny lines—mainly delivered by Gregory—and Kaplan makes the most of them. His slow shuffle, overblown Russian accent, and still-sharp comic timing add needed humor to both acts. It's rare to find an age-appropriate actor for this role who is up to the task, but Kaplan is one of them. Bartlett conveys Victor's stoicism, though he is less convincing in the anger that finally erupts. There's a sense of believability in Travis and Bartlett as longtime husband and wife, particularly with their small talk to open the first act. And Moss is convincingly anguished as Walter, who appears to be changing his ways.
Momentum—in the script and the performances—loses steam ramping toward the climactic moments, so the play never reaches its full potential. But a solid effort of a solid Miller work remains worthwhile.
Presented by and at Theatre West, 3333 Cahuenga Blvd. West, L.A. Feb. 12–March 21. Fri.–Sat., 8 p.m.; Sun., 2 p.m. (323) 851-7977. www.theatrewest.org.