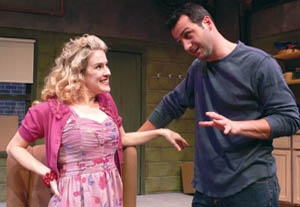 Playwright Sam Bobrick ("Murder at the Howard Johnson's," "Norman, Is That You?") has been churning out lighthearted commercial fare since the 1970s, when the dinner-theater craze in the U.S. was in its heyday. Bobrick's latest farce seems a perfect complement to roast beef or lasagna, perhaps followed by a slice of cheesecake topped with berries. Offering a hint of whodunit halfway through, then abandoning that gambit in favor of predictable sitcom banter, Bobrick feeds us mildly entertaining fodder—nothing to challenge the mental digestive process.
The basic premise—a down-on-his-luck mystery writer desperately tries his hand as an amateur psychic to make ends meet—comes across as more of a running gag than an intrinsic plot element. Adam (Jeffrey Cannata) sticks a crayon-scrawled sign in the window of his New York apartment, hawking readings for $25, and soon gets his first client, Laura (Dana Green), an unhappy wife. Though Adam initially bats zero with his soothsaying proclamations, a budding romance between these two becomes evident. It also becomes clear that Laura's philandering husband, Roy (Cyrus Alexander), plans to kill her to collect on a life-insurance policy. Soon entering the fray are Roy's nitwitted mistress (Bridget Flanery), her mobster boyfriend (Richard Horvitz), and a softhearted police detective (Phil Proctor).
Cannata is a likable protagonist, enlisting our empathy for this befuddled average Joe. Primarily a straight man around whom the comic zingers can fly, Cannata anchors the proceedings. His deadpan retorts hit the target. He's well-matched with Green, who projects a remarkably cool demeanor for a woman whose life is in danger. She's a tough cookie in the guise of a glamorous housewife. Alexander deftly conveys the sleaze that's right beneath the surface of a seemingly amiable fellow. Capably filling stock roles, Flanery is a bimbo too dumb to have a conscience, and Horvitz is funny as the thug with a high-pitched voice. Proctor lends fine support as a detective who's more sensitive than crusty. Director Susan Morgenstern allows the pace to sag at times, yet the actors give their best shots to the formulaic material.
Presented by and at the Falcon Theatre, 4252 Riverside Drive, Burbank. March 26–April 18. Wed.–Sat. 8 p.m.; Sun., 4 p.m. (Additional performance Sat., 4 p.m. April 3. Dark April 4.) (818) 955-8101. www.falcontheatre.com.