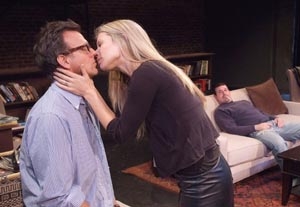 The Katselas Theatre Company aims at the heights of the Tom Stoppard experience but doesn't always make it through the sound and fury of tedious bombast and earnest actors trying to sound like British actors playing British actors.
Language is the loser, succumbing to a tsunami of exaggerated vowels and effete mannerisms. Playing Henry, a documented intellectual and a mostly lovable brute, Jay Hugeley is guilty of hyperaffectation more suited to a Wilde play. As Henry's first wife, Charlotte, actress first, faithless wife second, Kristina Kreyling accompanies her glib coolness with physical contortions that belong in an aerobics class. Under Allen Barton's direction, each scene starts the same: the writer at his desk, an interchangeable wife, Charlotte or Annie (a sexy young Susan Duerden), holding the center, and all frequently bellying up to the bar to change the migration patterns and explain why everyone's behaving badly.
The duplicitous games-on-a-train of the lovely Annie with hunky young actor Billy (Blake Griffin) are set downstage right, out of the purview, and hearing, of half the audience. Annie's husband, Max (Peter Leake), drifts in without much purpose, then conveniently disappears without a trace. Charlotte and Henry's daughter, Debbie (Amanda Kruger), pops in to give her parents lessons in living, prior to running away with a fairground barker. More to the point, and just in time, is the unexpected appearance of Annie's cause célèbre: the repulsive Brodie (a rough-and-ready Roddy Jessup), a political activist, recently released from jail, who has dropped in to get his share of what's going around.
Despite all the seemingly haphazard plotting,
The Real Thing
is the real thing, although it is dragged out to a long evening here, with at least three climactic moments when the audience wonders if the end has finally come. Nevertheless, there is passion here, and a real journey for the lead characters from blissful ignorance to the folly of enlightened wisdom and the real pain of love. And great language, high art, and much laughter under the pain. You can't stop Stoppard.

Presented by Katselas Theatre Company at the Skylight Theatre, 1816 Vermont Ave., Hollywood. May 2–31. Fri.–Sat., 8 p.m.; Sun., 7 p.m.
(310) 358-9936 or www.katselastheatre.org
.