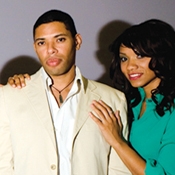 Writer-director Paul Hannah has created the makings of an interesting 90-minute relationship drama. Unfortunately, the running time here is two and a quarter hours, due to an underrehearsed cast, overwritten script, and sloppy direction. There are a couple of intriguing performances, but too many lines are flubbed -- or seemingly infused with unneeded extemporaneous additions -- and the heavier moments are taken to such an extreme that they become almost comical. Worse, several scenes, particularly in the first act, are twice as long as they need to be to get the point across yet fail to add any emotional weight to the story.
The conflicted protagonist is Will (Julius Verin), whom friends call a dog for his womanizing tendencies. Will meets his potential match in Dagney (Kalia Silva), a psychologist who refuses to put up with his pretenses. Will's best friend is Christopher (Robert V. Joseph), whose businesswoman wife (Adrianne Harris) has come to despise Christopher. Will's sister (Michele Richardson) is also one of Dagney's patients, and she is suffering from a dark past that left their mother (Cherinda Kincherlow) in prison.
The first scene sets the story's tone, but it also signals a snail's pace as Hannah's dialogue goes over the same ground about men's and women's tendencies numerous times. Many of the exchanges in each scene sound made up, and if they aren't, they clearly aren't needed. Most of the performances need tightening, as the exchanges are too lax. The few explosions of violence are compelling, but Hannah allows them to go on far too long, so they lose impact. The production's highlight is Silva, who seems authentic as the quiet but assured doctor who knows what she wants. Hannah also unwisely sets the opening segment in front of a weakly constructed curtain, requiring a few minutes of blackout before the next scene.
Hannah has a story with a few interesting elements. With a lot of editing, a stronger director, and more rehearsals, he might redeem this piece.
Presented by One Truth Media at the Lounge Theatre,
6201 Santa Monica Blvd., Hollywood.
Fri. 6:30 p.m., Sat. 7 p.m., Sun. 3:30 p.m. Feb. 22-Mar. 11.
(323) 514-8905. www.redemptionofadog.com.