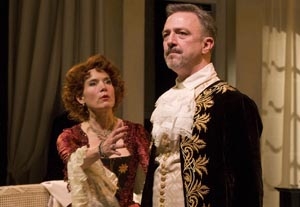 Skewering the pursuit of idle happiness is hardly an earth-shattering theatrical concept. And yet, director Julia Rodriguez-Elliott and company do perfect justice to this darkly comic indictment of the snobbish upper class, written by French playwright Jean Anouilh, translated by Pamela H. Johnson and Kitty Black. A self-absorbed group of aristocrats gather for a ball at a country estate. Their host has planned a dinnertime production in which they are to fill various roles. In addition to the Count's wife and her lover, his own mistress and a lifelong friend are on hand for the proceedings. At first, it seems to be nothing more than a delightfully incestuous mix of pretentious personalities.
Robertson Dean's Count Tiger is the textbook example of a carefree nobleman. His is a life centered on the trappings of his position and the joy found in whatever strikes his fancy. His wife, played by Susan Angelo, is a stoically understanding companion to this lifestyle of frivolity. As a counterpoint to the solid underpinning Angelo provides, Jill Hill supplies an exquisitely gaudy turn as Hortensia, Tiger's long-standing concubine. Meanwhile, his boyhood friend, Hero, played with delightful abandon by Geoff Elliott, is on hand providing a running commentary filtered through an alcoholic stupor. Nicely turned supporting roles include Steve Coombs as the Countess' prideful paramour and Mitchell Edmonds as her officious lawyer.
Lenne Klingaman brings an air of refreshing optimism to the pivotal role of Lucile, a 20-something tutor who captures the Count's attention and heart. Their blossoming love threatens the entourage's societal existence. Here, Anouilh's script shifts from witty banter to a seamier tone. In particular Elliott's scenes with Dean and later on with Klingaman are noteworthy; the subtlety of their work transforms Anouilh's story from what may seem mere farce into a deeper, more disturbing drama.
The proceedings unfold on designer Michael C. Smith's richly appointed drawing-room set. As the play within the play is an 18th-century comedy, the cast appears almost exclusively in costume designer Soojin Lee's gorgeously bedecked period attire. Ken Booth's lighting and Scott Ford Barber's sound design are the final pieces that complete this engaging puzzle.
Presented by and at A Noise Within, 234 S. Brand Ave
.,
Glendale
.
April 18
–
May 24. Repertory schedule
.
(
818
)
240-0910, ext. 1 or www.anoisewithin.org
.