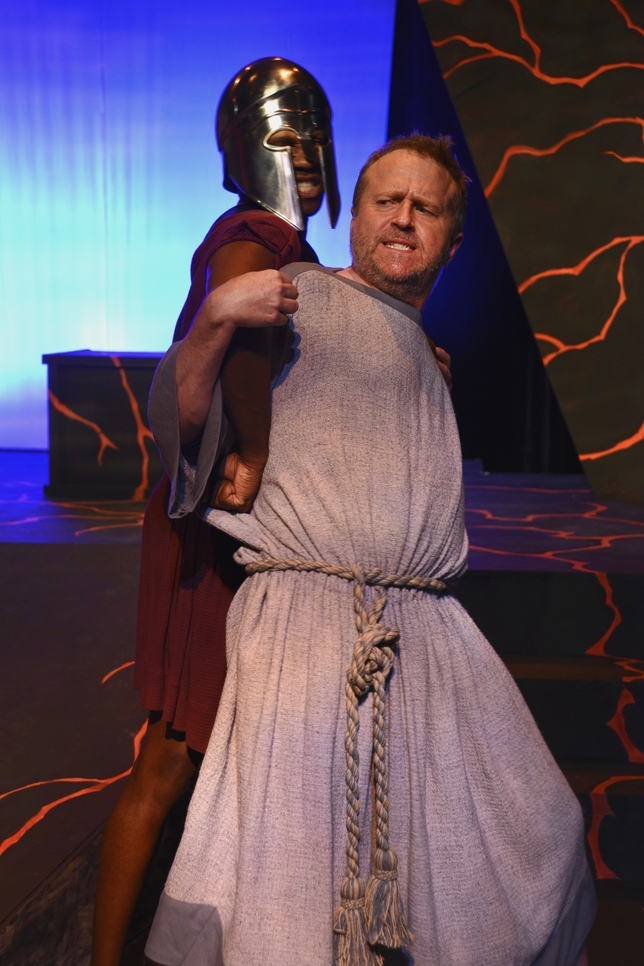 In "The Rock of Abandon," playwright Stephen Blackburn has created the first Ancient Greek noir, crossing historic figures of fifth-century Athens with the conventions of that dark film genre.
When the mutilated corpse of an aging courtesan is found near Athens on the Rock of Abandon—the spot where Athenians left unwanted children to die—disillusioned dramatist and amateur sleuth Euripides (Jim Hanna) is soon on the track of the killer. His investigation is hindered by the fact that he is persona non grata with the Athenian citizenry because of his free-thinking, which challenges traditional values. Generals Alkibiades (Todd Babcock) and Lamakos (Jeffrey Wylie) resent the pacifism of his recent play "The Trojan Women," which might hinder their efforts to foment a war with Syracuse. He's also hated by the treacherous aristocrat Kritias (Gary Rubenstein), who's using his special war powers to impose martial law and overthrow the Athenian democracy. Euripides is assisted by the hip, sympathetic midwife Althea (Ann Ryerson), who also seems to serve as coroner, funeral director, and surprisingly up-to-date forensic investigator, striking a blow for feminism along the way. By the time the labyrinthine plot has played itself out, Euripides has pursued the various clues; discovered the killer; uncovered political corruption and incest; fallen in love with Lamakos' wife, Layna (Carolina Espiro); and fought Alkibiades in hand-to-hand combat.
Blackburn has carefully researched his script, basing the plot on real events in Athenian history and introducing us to a who's who of prominent Athenians. However, the problem with research is that the writer, once he's finished his digging, wants to use all that he's learned. That sometimes leads to ponderous talkiness and too much explanation. Blackburn observes the parallels with our own recent political history but doesn't call excessive attention to them.
Director Tiger Reel has staged the piece as a Grecian extravaganza, complete with a cast of 16; dancing girls; a couple of wrestling matches, choreographed by Mike Mahaffey; an imposing set, complete with masses of faux marble and phallic herms, by Armando Norte; and handsome, sometimes ornate costumes by Kim Little and Antoinette Muto.
Both Hanna's Euripides and Ryerson's Althea rely on a simple, down-to-earth realism that's needed to balance the hifalutin style of the professional politicians. Thomas Ashworth contributes a rather frowsy Sokrates, Babcock emphasizes the ruthless arrogance of Alkibiades, and Monica Martin has a nice cameo as a successful madam named Choirina. Pancho Moler provides a stalwart presence as Inspector Podargos, Abubakr Ali scores as a young athlete training for the Olympics, and there is solid support from the rest of the cast.
At times the complexity of Athenian history circa 415 B.C. and the sheer number of characters make the tale a bit confusing and hard to follow, but "The Rock of Abandon" is always engrossing and fun to watch.
Presented by Fierce Backbone at Elephant Stages' Lillian Theatre, 6322 Santa Monica Blvd., Hollywood. Oct. 20–Nov. 18. (323) 960-7787 or www.plays411.com.
Critic's Score: B+