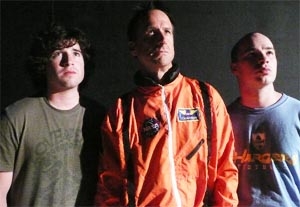 Playwright Stefan Marks is clearly trying to tell a coming-of-age story, but that's all that's clear about this work. Marks hasn't decided what his core theme is or what kind of play he's writing. The satirical elements are occasionally amusing but not clever enough, and the serious moments don't probe as deeply as they should. The conflicts are not sufficiently crucial and the stakes are too low.
The main character, Brandon (Barrett Shuler), is writing a play as a love letter to his father, Bob (Keith Middleton), who still mourns the loss of Brandon's mother. In the play within the play, an astronaut father receives a message from his dead wife, saying she is being held prisoner somewhere in the ether by a singing skeleton. The father prepares for a rescue mission. The absurd plot is obviously symbolic in that Brandon, who was 7 when his mother died, remembers that she used to sing to him every night and recalls being told that a skeleton is all that's left when a person dies. He therefore has a skeleton (Marks) appear intermittently to sing about emotions that are meant to be meaningful. The only meaningful moments, however, come in the second act, when Brandon reveals how much his dad means to him. By then it is too little and too late.
Given the play's inherent flaws, the actors acquit themselves with commitment. Shuler displays an appealing charm that should garner him roles in youth-oriented films and TV shows. Middleton does admirable work in an underwritten role. Mark Gadbois and Matt Weight as two actors in Brandon's play are properly exaggerated and skillfully refrain from commenting on their characters. Hannah Johnson hits just the right note as the actor who captures Brandon's heart. Brian Taubman plays Brandon's gay friend with humor but tends to garble his lines at moments.
Hidden somewhere is the germ of a genuine exploration into the pain of loss, but, in this context, it is impossible to find.
Presented by and at the Stella Adler Theatre, 6773 Hollywood Blvd., Hollywood. May 22–June 27. Thu.–Sat., 8 p.m. (888) 201-0804.