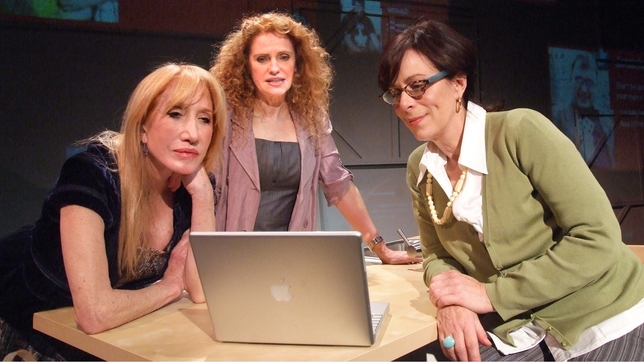 Fox has the "Sex and the City" prequel "The Carrie Diaries." With her new play "The Snake Can," actor-playwright Kathryn Graf is clearly trying to lay the groundwork for a tale of a group of closely knit, occasionally foulmouthed female friends as they slide toward menopause. The trouble is that her trio of Nina, Harriet, and Meg—while every bit looking for love—aren't nearly as dirty, sexy, or smartly depicted as Carrie, Miranda, et al. Graf has said that in her three heroines she's created a few different versions of herself: widow, eclipsed partner of successful actor, single woman. In Jane Kaczmarek, Diane Cary, and Sharon Sharth, director Steven Robman has assembled a better than average set of actors to bring them to life. (Predictably, the men in their lives are far less interesting.)
Even with the occasional bit of dramatic heft, "The Snake Can" feels watered down. Basically, we have a paean to female friendship surrounded by romantic interludes, some of which are believable while others are intensely silly. The three-way bifurcation presumably means that we're expected to root for our heroines equally, and that's dangerous; even "Sex and the City" put Carrie's face—and Carrie's face only—on the side of the bus.
All three women get a breakdown, a crisis point, or both, Meg most significantly. Twice divorced, successful, beautiful, and a genuinely good person, Meg is nonetheless a magnet for loneliness. In a comic encounter with a golfing CPA (Joel Polis), her seduction attempt fails because the poor blighter respects her too much. Later, she faces a test when offered a chance at love with someone from her friends' inner circle, an opportunity she sabotages. Sharth, fighting all sorts of conflicting impulses, shows some real dramatic chops here.
Kaczmarek's Harriet grounds the action in a different way. As a woman re-entering the dating scene seven years after the death of her husband, Kaczmarek (late of "Malcolm in the Middle") is a mix of wide-eyed wonderment over this brave new world of Internet dating, practicality, and fantasy dreams (her morphing of online date Stephen into a variety of stereotyped Cassanovas is a bit overplayed). James Lancaster, who plays Stephen, makes for both a charming foil and a kind of sexual counterpoint. Clearly, the men are trying to figure out this game as well.
Having left her famous actor husband Paul (Gregory Harrison) to pursue an artist's career, Cary's Nina spends much of the play either in torment or up to her elbows in paint. The actor makes this character interesting if not terribly plausible. Harrison ably plays the anti-rake, the guy who presumably could have any woman but only wants his wife—who doesn't want him back.
The three women convene as a group exactly twice: to set the scene and to part. Perhaps Graf could make the romantic (mis)adventures of Harriet, Nina, and Meg continue in series form. We have, alas, heard the tale before.
Presented by Indi Chi Productions at the Odyssey Theatre, 2055 S. Sepulveda Blvd., L.A. Jan. 19–Feb. 24. (310) 477-2055 ext. 2 or www.odysseytheatrecom. Casting by Helen Geier.
Critic's Score: B-