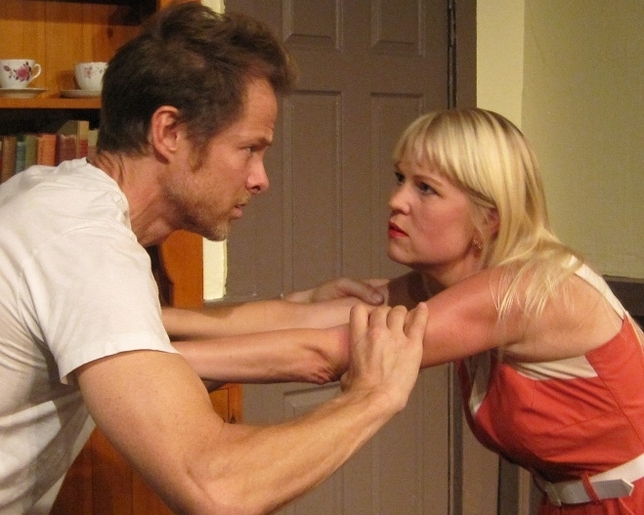 When Carson McCullers' play "The Square Root of Wonderful" opened on Broadway in 1957, it was poorly received by the critics and ran for only 45 performances. But no matter how disappointing that production may have been, it couldn't possibly have been worse than the revival currently onstage at the Raven Playhouse.
The play is, admittedly, flawed. There is too much obvious exposition, the lead character could be more clearly drawn, and two other characters seem derivative of Amanda and her daughter, Laura, from "The Glass Menagerie." Yet the love triangle at the core of the plot is enticing, with the potential for considerable dramatic tension. There is also some soaring poetry in the dialogue, at least those sections of dialogue that one can hear or understand. Director Steve Jarrard must be faulted for failing to remind his actors that they have to be audible. The problem is particularly inexcusable given that the small theater seats fewer than 50 people.
As the play begins, Mollie (Meg Wallace) is living on an apple farm in upstate New York with her adolescent son, Paris (Sean Eaton). She has taken in a boarder (Ryan Gangl), an architect, who has fallen in love with her. Her abusive, alcoholic ex-husband, Phillip (Ned Liebl), a writer whose one-time success has long since dissipated, returns from a sanitarium and wants her to remarry him. Into the mix come Phillip's overbearing mother (Helen Wilson) and his repressed sister (Carolyn Crotty), while Mollie finds herself torn between her addiction to Phillip and her need for the unselfish love offered by the architect.
The role of Mollie demands a well-grounded approach, but Wallace's delivery, barely above a whisper, is too tentative, and her performance stays on one note. She tends to stare out front, affecting an ethereal quality that doesn't emanate from her depths and therefore comes across as artificial and contrived.
Gangl's work is flat and wooden, and he speaks as though he is mechanically imparting information. The chemistry that should flow between his character and Mollie is totally lacking. Conversely, there is palpable chemistry and sexuality in the air when Phillip tries to seduce Mollie. If only one could hear what Liebl is saying!
Eaton can be heard, but his Southern accent so overwhelms his dialogue that he too is incomprehensible, as is Marie Odabashian in the role of his playmate.
In contrast, Crotty gives a performance of great clarity, displaying a genuine neediness and vulnerability underscored by a quiet wisdom. As the overly controlling mother, Wilson injects the proceedings with vitality, humor, and a strong stage presence.
But for these two performances, one can't relate to the characters or care about what happens to them. The company's reach seems to have exceeded its grasp.
Presented by Collaborative Artists Ensemble, in association with the Raven Playhouse, at the Raven Playhouse, 5233 Lankershim Blvd., North Hollywood. Sept.14–Oct.14. (323) 860-6569 or www.plays411.net.
Critic's Score: D